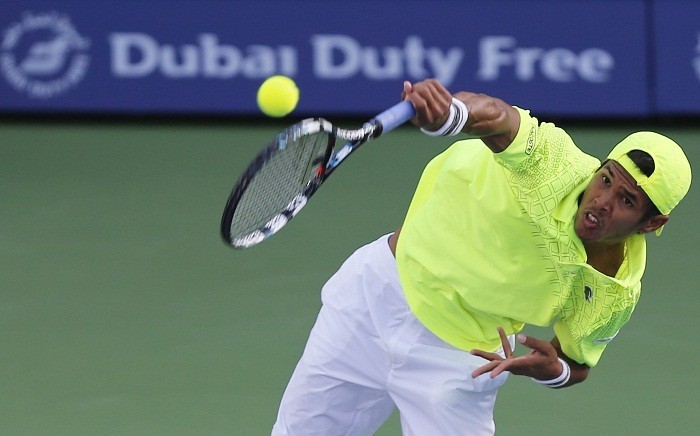 Honesty and hard work have made a champion out of India's Somdev Devvarman who has had a pretty good start this year by making the Delhi Open title his own and now getting past the world no. 5 Juan Martin del Potro.
Del Potro retired injured after the first set which Somdev won 7-6 (3) sending him straight to the next round with little effort. Not till mid-match was Somdev aware of his opponent's worries and took advantage of it to make him play of the backhand as much as possible. Somdev was confident about his game but said it was not a victory he could be too happy about.
"I don't feel like it was a quality top-5 win," the 29-year-old Indian said. "It is unfortunate the guy was injured. He's been playing really good tennis to be in the top-5. I wish him a speedy recovery. He's a quality player and a class act, I hope he recovers well and has a good year.
"In the course of the match I realized that he wasn't comfortable hitting backhands and I tried to make him hit as many as I could. He wasn't hitting over, so I knew he wasn't happy.
"I feel like I'm playing well and it would've been nice to play a full match against a top-5 guy and see how I did."
Meanwhile, Del Potro said that the wrist injury really hurt and it didn't let him take the match further.
"It was really tough to play today and I tried everything," the Tandil native said. "But it's very difficult to play in these conditions, playing slices. I cannot be the player that I would like to be."
It was a good day for India in Dubai as Rohan Bopanna and Aisam-ul-haq Qureshi progressed to the doubles quarterfinals having defeated Nikolay Davydenko and Victor Hanescu 6-1, 5-7, 10-8.
Top seed Novak Djokovic made his intensions clear on defending the Dubai Open title by beating Denis Istomin 6-3, 6-3.
"It wasn't as easy as the scoreline indicates," said Djokovic. "I needed to work for my games. My serve worked really well in the second set, and that helped me to get some free points. But having not played for more than four, five weeks, an official match, obviously it takes its toll on the court. I practised a lot. I put in a lot of hours on the court, trying to develop my game, trying to get myself in the right shape, and it's going to click sooner or later.
"The atmosphere is great. I enjoy it. It's a beautiful stadium. I have had lots of success on this court, at this tournament, and I always look forward to coming back."
The 26-year-old Serb has won the Dubai Open Championship four times in the past and if he manages to get past all odds this year he would match Federer's record.
Last year's finalist Tomas Berdych easily dismissed Marius Copil 6-3, 6-4 in the first round while Frenchman Jo-Wilfried Tsonga overcame Victor Hanescu 6-2, 6-4.
"I see myself continuing to work, continuing to improve my game," Tsonga said after the match. "Nobody knows what will happen in a few weeks. So I keep fighting. I stay confident. This is the key."