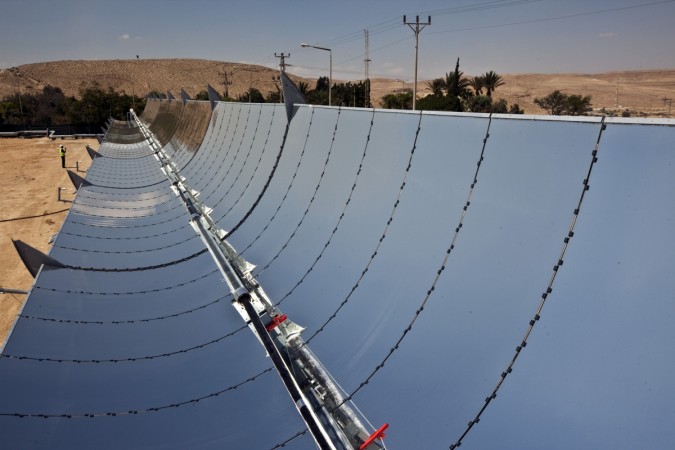 India's Energy Minister Piyush Goyal recently announced that solar energy at Rs. 4.34/kWh ($0.07) is cheaper to produce than coal-powered thermal energy. Now, the cost of producing solar energy has hit another new low. The Dubai Electricity and Water Authority (DEWA) received a bit rated bids at "US 2.99 cents per kilowatt hour."
Electrek reported that in the U.S., the cost of per kWh of solar energy without subsidies averages at $0.05. In the bids received by DEWA, all five bids were less than $0.45kWh, despite not receiving any subsidies. The winning bid belonged to a consortium led by Abdul Latif Jameel of Saudi Arabia, Fotowatio Renewable Ventures (FRV) of Spain and Masdar of the UAE.
Since 2015, the cost of producing solar energy has been declining, with Enel Green power signing contracts at $0.036/kWh in Mexico and $0.03/kWh in Morroco earlier this month, Electrek reported.
RenewEconomy added that this bid is over half of what was received by Saudi Arabia's power authority in 2015, which was valued at $0.584/kWh. It attributes the low pricing in Dubai to the low cost of labour there and cheap finance.
However, Dr. Moritz Borgmann, a partner at Apricum, a clean energy advisory company, believes that Jinko Solar, whose bid stood at $0.0365/kWh, and Acwa Power, at $0.0395/kWh, were more realistic in their bids. According to him: "The majority of the expenses for a solar power plant lie in the upfront cost of construction, which gets recovered over numerous years."
He suspects that Masdar had access to long-term financing, courtesy Abu Dhabi.