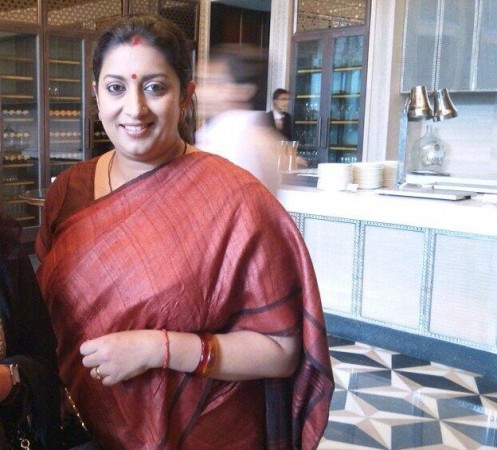 The Union Human Resource Development minister Smriti Irani on Saturday requested the Delhi University (DU) to reinstate five officials who were suspended for leaking her documents, even as the controversy over the alleged misrepresentation of facts relating to her educational qualification has not yet receded.
This comes after the DU on Friday suspended five officials for allegedly leaking documents related to her taking admissions in DU last year.
"Five of the non-teaching staff of the School of Open Learning have been suspended for accessing the confidential file and then leaking it," Malay Neerav, DU joint dean of students' welfare and media coordinator, told reporters on Friday.
"These are officials below section officer level," he added.
DU took the action after a Hindi daily published the leaked document adding that Irani had taken admission in DU's School of Open Learning last year, but had not appeared for exams.
On Saturday, however, Irani requested the five men's reinstatement saying that she was open to scrutiny and criticism.
"Since DU is an autonomous institution I have put forth my personal appeal to the VC to reinstate the officials (sic)" she posted on Twitter. "In public life one should be open to scrutiny and criticism. So am I," she added.
From day 1 of her office, the actor-turned-politician-turned-minister has come under scrutiny over questions on her educational qualification.
The senior Congress leader Ajay Maken had questioned her ability to head the Education ministry because of her educational qualification. Maken had tried to point out, through a series of tweets, how the new cabinet led by Narendra Modi is incompetent.
"What a Cabinet of Modi? HRD Minister (Looking after Education) Smriti Irani is not even a graduate! Look at her affidavit at ECI site pg 11 (sic)!" one of Maken's tweets read. The post went viral and invited sharp reactions from the ruling party and the public alike.
The controversy took a new turn on Wednesday, when it apppeared that she had varying accounts of her educational background declared in two of the affidavits filed in the past.
Irani responded by saying that people must judge her by her work and not by her qualifications. "Extraneous circumstances have been created to divert my mind from the works I have been assigned to do. I will humbly request all of you to judge me by my work," she told reporters on Thursday morning.
"I have been judged by my organization for my capacity to deliver," the 38-year-old said.
Senior BJP leader Uma Bharti also came to Irani's defence earlier this week by hitting back at the Congress and questioning Sonia Gandhi's educational qualifications instead.
"I want to ask Madam Sonia Gandhi, what is her qualification?" Bharti asked.