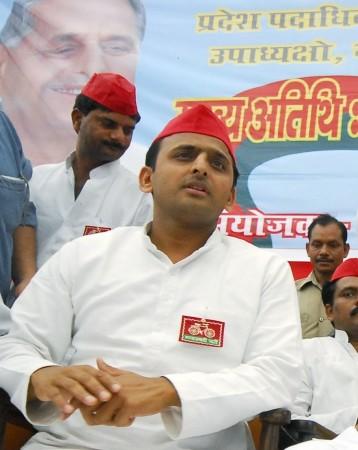 Despite assurance by Uttar Pradesh Chief Minister Akhilesh Yadav on not sparing anyone involved in the murder of Deputy Superintendent of Police (DSP) Zia-ul-Haq on Saturday, public outrage was apparent when he visited Kunda, the constituency of former minister Raghuraj Pratap Singh alias Raja Bhaiya who allegedly ordered the attack.
DSP Zia-ul-Haq was allegedly killed by four associates of Raja Bhaiya after arriving in Balaspur village, Kunda, to investigate the murder of village pradhan, Nanhe Yadav, and his brother over a land dispute. The police officer's body was found in the village but the police forces accompanying him had gone into hiding.
CM Akhilesh Yadav, who visited Kunda to meet the family of the victim, said that the case has been referred to CBI and assured that the state government would do its best to find the culprits.
"We have given ₹20 lakh to the widows of the slain gram pradhan and his brother. The government will take strong steps to nab the culprits. We have referred the case to the CBI," the CM told CNN-IBN.
The UP government had earlier suspended eight policemen, including the inspector of Kunda, for fleeing from the crime scene.
However, loopholes in the investigation process are apparent as the case has not moved forward. Only two people including Raja Bhaiya's supporter Guddu Singh were arrested.
What comes as a shock is that police have not recorded the statements of eyewitnesses even after four days since the incident. The police have not even questioned the constable who accompanied the DSP, reported CNN-IBN.
The investigators have not yet found the police officer's service revolver and mobile phone which went missing. They have neither recovered the weapon nor the bullet that killed the DSP.
Police said that the DSP was killed by a single shot that passed through his chest. However, the victim's wife Parveen Azad, a medical student, claimed that she saw at least three bullet wounds in her husband's body and demanded a second autopsy.
Parveen Azad filed an FIR against Raja Bhaiya and his three close aides for conspiracy, which led to the minister's resignation. Four cases have been lodged in connection with the murder of the DSP.
Surprisingly, Raja Bhaiya has not been arrested in spite of being accused for the murder. Claiming that he has been framed in the case, the former minister said that both he and his aide, Guddu Singh, are innocent.
Meanwhile, Opposition leader Mayawati slammed the Samajwadi Party (SP) government for its apathy in the case and not taking action on Raja Bhaiya.