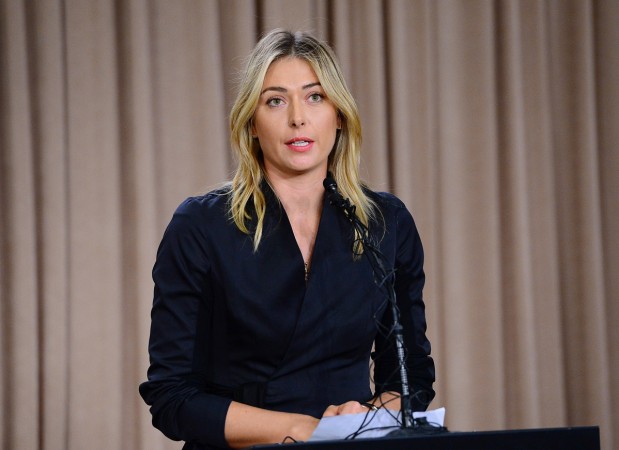 There is great news for Maria Sharapova fans who will be able to see the tennis star back in action from April 26 onwards. The Russian was handed a ban for two years earlier in the year after being tested positive for a drug called Meldonium, but the Court of Arbitration for Sport (CAS) has decided to reduce it to 15 months.
As a result, Sharapova will feature in the three (French Open, Wimbledon and US Open 2017) of the four Grand Slams slated for 2017. However, she will miss the Australian Open, which takes shape in January.
Sharapova had initially stated that she was not aware of Meldonium being included in the list of banned drugs. She did not read the mail sent by the World Anti-Doping Agency in 2015, informing about the drug being banned in 2016. Sharapova had appealed the two-year ban, stating it to be unfairly harsh. The athlete was taking the drug since 2006 after being prescribed by a family doctor to deal with her health problems.
Though the CAS deemed her at fault for not checking the list, the panel decided to reduce the ban to 15 months.
"However, the CAS panel found that Ms Sharapova was at fault for (a) failing to give her agent adequate instructions as to how to carry out the important task of checking the Prohibited List, and (b) failing to supervise and control the actions of her agent in carrying out that task (specifically the lack of any procedure for reporting or follow-up verification to make sure that her agent had actually discharged his duty)," the ITF statement read.
The CAS panel also noted "Sharapova's failure to disclose her use of meldonium on her doping control forms."
"Taking all of these circumstances into account, the CAS panel determined that, although Ms. Sharapova was at fault, her plea of no significant fault or negligence should be upheld, triggering a discretion to reduce the otherwise applicable two-year sanction by up to 50%. Based on its analysis of Ms Sharapova's degree of fault, the CAS panel decided that the sanction should be reduced in this case to 15 months."
Sharapova, after hearing the great news, posted a statement on Facebook.