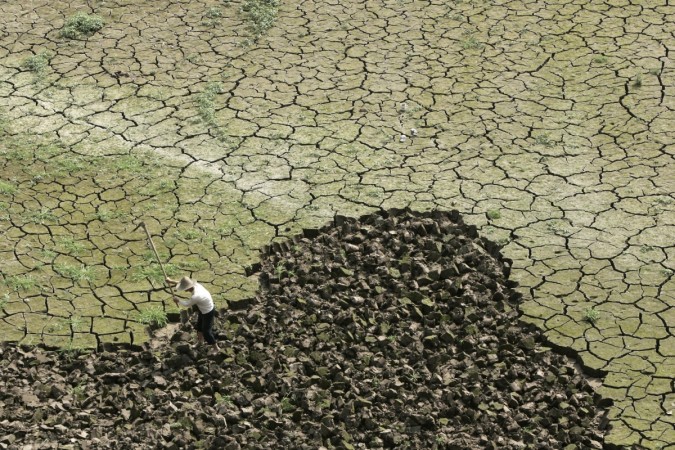 An episode of drought may pull down the growth rate of India's agriculture sector this year, pouring cold water on the Narendra Modi-led government's ambitious target of over 8 percent growth for the economy.
For the first time in about three decades, the country's farm sector is most likely headed for a second consecutive year of "drought or drought-like conditions", as a result of deficient monsoon rainfall.
The country's weather agency has downgraded the probability of the country witnessing monsoon rainfall to 88 percent from 93 percent. Around half of the India's agricultural land still lacks irrigational facilities and depends on monsoon rainfall.
Indian farmers are already troubled by a plunge in commodity prices and unseasonal rains, damaging their farm output.
Last month, a US-based meteorological service provider had forecast that the country would face a "significant" drought situation this year as "very active" typhoons over the Pacific are likely to result in weak monsoon rainfall, The Economic Times reports.
The government estimates country's foodgrain production to decline by 5.25 percent to 251.12 million tonnes in 2014-15 crop year due to deficit monsoon rainfall last year and unseasonal rains in February and March, this year.
"Farmers are already reeling under heavy losses ... and now they don't have money to irrigate their fields or use an optimum level of inputs like fertiliser," said Ashok Gulati, an agricultural economist who was a former advisor to the government on crop support prices, Reuters reports.
During the last official drought in 2009-10, the agricultural economy witnessed a growth of 1 percent but a few private economists expect things to be worse this fiscal year.
DH Pai Panandiker of think tank RPG Foundation said that agricultural activity could contract by as much as 4 percent during the current fiscal year, posting a negative growth for the first time since 2002-03.
Panandiker has projected a 4 percent contraction in agricultural sector, which contributes nearly 16 percent to the gross domestic product (GDP) of Asia's third-largest economy, which could bring down overall growth rate by 0.6 to 0.7 percentage points, with other things remaining the same.
The estimated impact from farm output is likely to pull down the country's growth below 7.3 growth rate, posted last fiscal year. The government expects the economy to grow by 8.1-8.5 percent in 2015-16.
"Slower agriculture growth or any contraction there could impede overall economic growth despite any robust rise in services or manufacturing," Gulati said.
The Reserve Bank of India (RBI) has already revised down its growth forecast for FY16 to 7.6 per cent from an earlier 7.8 percent. RBI Governor Raghuram Rajan sees monsoon outcome as the biggest risk for the economy.
Unseasonal rains witnessing this year have already resulted in a spike in inflation, lessening the scope for further rate cuts by the central bank to boost growth. The official data showed that retail inflation increased to 5.01 percent in May from 4.8 percent in April.
A rise in inflation will not bode well for the Modi government ahead of assembly elections in Bihar and West Bengal. The government needs to put up a good showing in the elections, as crucial reforms such as Land Acquisition Bill and Goods and Services Tax (GST) Bill got delayed due to its lack of majority in the upper house of Parliament, the Rajya Sabha.