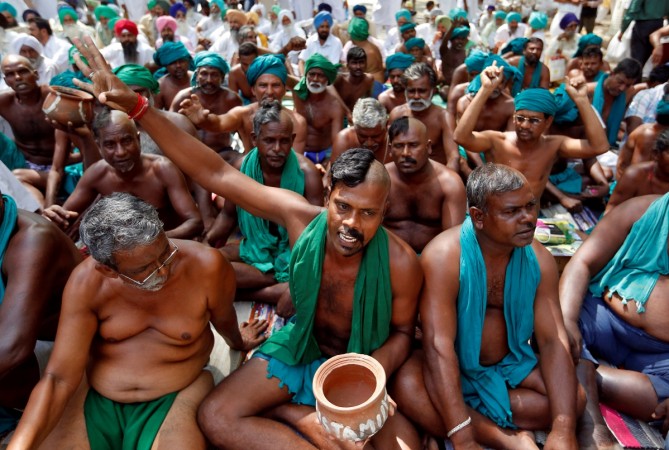 Drought-hit farmers from Tamil Nadu, who have been protesting at Jantar Mantar for the past 38 days now, drank own urine on Saturday as a sign of protest against the delay in the announcement of a loan-waiver and relief package. This new form of protest comes at a time when rival factions of the ruling AIADMK are moving close to a merger with O Panneerselvam likely to return as the Chief Minister of the state.
Farmers have been taking to different forms of protest at the Jantar Mantar since March 15 hoping to draw the attention of the Central Government and the AIADMK towards the severe drought in Tamil Nadu.
The farmers had stripped outside the Rashtrapati Bhavan after they were barred from meeting Prime Minister Narendra Modi. They had also protested using skulls of dead farmers who had committed suicide due to severe drought in Tamil Nadu. Then, they held live rats and dead snakes between their mouths and claimed that that they were forced to eat rat meat due to poverty. They also staged a skit showing a farmer wearing a Modi mask with a whip in his hand.
However, the farmers dropped the urine-drinking protest soon after the Delhi Police intervened but decided to collect it in buckets and send it back to Tamil Nadu, the Hindustan Times reported.
"We may not be allowed to drink urine, but it's within our rights to collect it in a bucket. As we got neither water nor justice in Delhi, we will take our urine back home. We have no water there," P Ayyakkannu, state president of the National South Indian Rivers Linking Farmers Association, who is leading the protest, said.
"They can arrest us if they want, but we will continue agitating," one of the protesters told HT. Farmers also said the course of their protest depends largely on the outcome of their meeting with Tamil Nadu Chief Minister E Palanisamy on Sunday morning.
The farmers also claimed that they were being forced by the Centre to resort to such extreme measures. "I know it is humiliating to eat and drink our own waste. But, should the government not be ashamed of forcing us farmers to use such desperate measures? If only Modi would meet with us and hear us out," 65-year-old Palanichamy, who has been protesting at the site since day one, told the daily.
The farmers have demanded a loan waiver, a drought-relief package and a solution by the constitution of a Cauvery management board to the Tamil Nadu leg of the river that has allegedly being drying up. Several opposition parties have appealed to the farmers to give up their protest and join the all party-strike in Tamil Nadu.