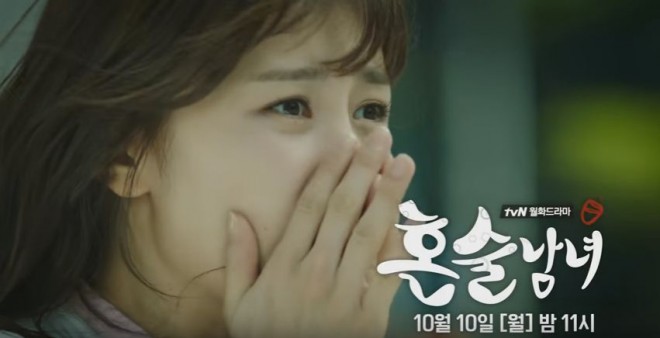 Drinking Solo a.k.a Let's Drink is half way through and it has failed to create a wave among the Korean drama lovers across the globe. So it was important for the show to introduce a shocking twist in episode 11 to keep its viewers hooked to the screens.
The mini-series is likely to change the lives of Jin Jung-suk, Park Ha-na and Jin Gong-myung upside down when it returns on tvN tonight, October 10, at 11pm KST.
Click here to watch the episode live online. The sequel will also be available online on the official You Tube Channel of tvN.
The show concluded its 10th episode with a scene of Ha Seok-jin's character admitting his love for the rookie lecturer. In the sequel, he tells her that life has become impossible for him without her and she remains clueless about the sudden change in his character.
The upcoming episode will pick up right from where it left off the two protagonists and continue to show the various efforts made by Jung-suk to impress Ha-na.
In a trailer of the tvN series, the star lecturer is seen offering cake and coffee to his colleague. Although she refuses to take it, he comes up with his own reasons to convince her. The clip even shows him observing her poster and imitating her hand gesture.
The promo then takes viewers through a shot of Park Ha-sun's character waiting for a bus. Her face lightens up by seeing her student Gong-myung, but she suddenly realises that he is about to be hit with a bike. The video ends with a symbolic scene that indicates that he will meet with an accident before she could do anything.
However, it is not clear whether the ninth grade civil service student of Noryangjin Institute will end up in a hospital bed or bid adieu to his loved ones forever.
Additionally, the episode will also address the various challenges faced by Jung Chae-yeon and Kim Ki-bum as they continue to deal with their indifferences.
Watch the trailer of Drinking Solo episode 11 below: