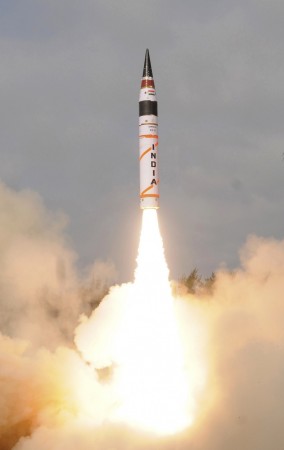 The Defence Research and Development Organisation (DRDO) has reportedly test-fired the nuclear capable K-4 missile, improving India's deterrence capability in the wake of India's "No First Use" policy regarding the use of nuclear weapons, the New Indian Express reported, citing a reliable defence source.
The K-4 missile is a Submarine Launched Ballistic Missile (SLBM) with a range of 3,500 kms. The trial was aimed at testing the operational range efficacy of the missile. The source revealed that the missile was tested on Monday from a 30 feet deep sea underwater pontoon, offshore Vizag coast.
The report noted that the DRDO remained "tight-lipped" about the test. The source revealed that the take off was "smooth" following the "successfully ejecting" the missile from pontoon.
The K-series of missiles have been shrouded in secrecy since they will eventually be part of the inventory of India's indigenous nuclear Arihant-class submarines. There are conflicting reports suggesting that the missile, when operationalised, will be used in INS Airhant or INS Aridhaman.
Earlier reports have detailed that the missile is the best in its class, is manoeuvrable and has an innovative system and the ability to cruise when at hypersonic speed. The K-4 missile belongs to the K-series of missiles which are designed to be "faster, lighter and stealthier."