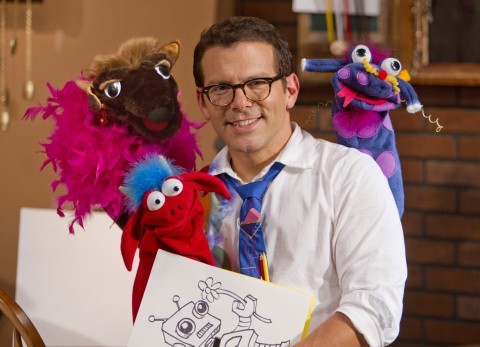 Christmas is here and the kids are going to keep you busy. The holidays are also the time for you to relax and it's understandable, if you want to keep the kids busy, while you catch up on chores or maybe get some alone time, during or after the Christmas.
But why not do something different. Make this Christmas more fun for the children with the help of the talented John Masse, the creator and designer of well-known animated children's characters. His internet online drawing series Muffalo Potato certainly has found a unique and simple way of teaching drawing. Certainly, as a family too, this show can be watched and the parents too can brush up on their skills.
'Learn To Draw in Minutes Using only Letters and Number' releases fast-paced video episodes on its website - Muffalo Potato as well as on their YouTube channel: Muffalo Potato every Saturday morning.
The episodes feature Masse, the co-creator and his friendly, blue-haired sidekick, Muffalo Potato, a puppet.

In the show, Masse introduces kids to new styles of drawing just by using numbers and letters. "In a time where art programs are being cut from schools, we've come up with a way to deliver the entertaining 'Learn To Draw' series at no cost to the user," said Masse.
Produced by Maslen Entertainment, the team is currently working with teachers in the Los Angeles area to set up live shows within the classroom. On the Muffalo Potato website, teachers can find out how to incorporate the "Learn To Draw in Minutes" concept within their own lessons. "When I was a kid," says Massé, "my dad taught me and my sisters how to draw pretty much anything simply by using letters and numbers. Those great memories are what inspired me to create Muffalo Potato."