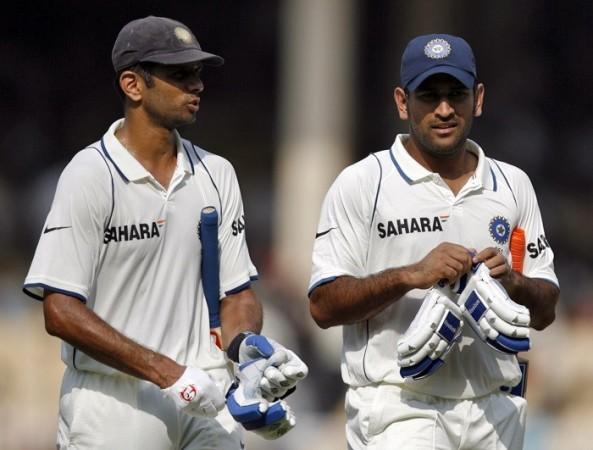 India's former Test captain, Rahul Dravid, favours Mahendra Singh Dhoni to continue his run as Test captain. Dhoni has led India in 23 overseas Test matches, out of which only 5 have resulted in victory and 11 in loss, closing with a draw in 7. Despite the alarming numbers, Dravid maintained his stand that there was no reason for the selectors to look for other options at least till the end of this season.
"In Tests, I always saw these four Test [tours] as Dhoni's opportunity to redeem what has been a pretty poor overseas record for him. He's achieved everything else. He's won one-day tournaments, he's won a World Cup, Champions Trophy, he's taken India to No. 1, he has a great record in India, just hasn't had the results outside of India," Dravid told ESPNcricinfo after the drubbing India received in New Zealand.
"And I think he deserves the right, the chance to play out this year, and assess it at the end of Australian series. End of that series, we'll really know where Indian cricket stands and where Dhoni stands, both as a player and as a captain."
The 41-year-old also had a word of advice to the Jharkhand-born cricketer on playing teams in foreign lands. "I think he's got to realise this very quickly, that if he wants to win Test matches abroad, he's got to risk it all.
"He's got to take that chance that he's going to have to lose some Test matches. The only way you can win abroad is to take a few risks, take a few gambles."
Dhoni has been criticized severely for being defensive in setting fields and using his pacers. And the criticisms also revolve around him not being able to back his team in converting great starts into possible wins. India has been without a victory in the last 12 Tests away from home, losing 10 and drawing 2. Dravid was of the opinion that trusting bowlers was the key to not only encourage but also enhance performances.
"I think he doesn't trust his bowling attack as much as I think he should. I saw that even in the Test match in Durban, where he didn't take the new ball till 146 overs. In fact he was forced to take the new ball.
"He sort of didn't trust his fast bowlers to be able to take wickets. He kept playing with the older ball because he wanted to control the runs. So I think that is a slightly defensive mindset that he's got into.
"Look, there have been a few disappointments in the way he's not been able to win, I guess, two Test matches in the last four, [having] been in really strong positions, but look, you can't always blame him. It also comes down to the quality of bowling attack that he has, and yes, so I'd like him to have an opportunity to be able to correct that poor overseas record."
Another former Test Captain from India, Sunil Gavaskar, talking to NDTV agreed with Dravid on the Dhoni issue.
"I think Dhoni has still got plenty to offer. A captain can do very little if you don't have a bowling attack. Generally a captain is only as good as his team."