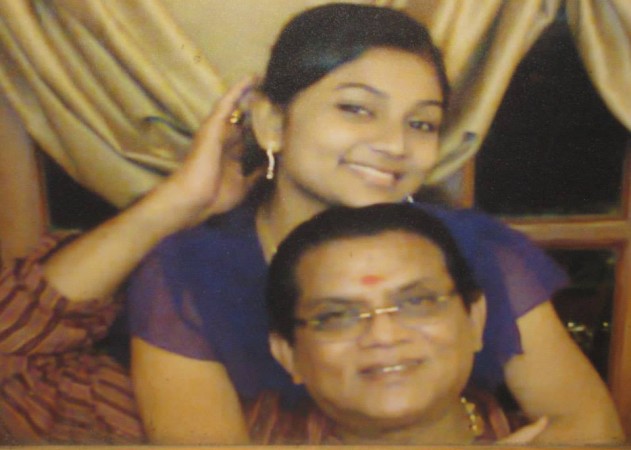 Actor Jagathy Sreekumar's public appearance on Sunday (28 June) after a three-year gap was marred when his daughter Sreelakshmi walked up to the stage to meet her father, taking the organisers by surprise.
Sreelakshmi, who is Jagathy's daughter from his second marriage, created chaos for some time when she walked to the stage from the audience and hugged him. The organisers, who were taken aback, immediately rushed to stop the girl. Things calmed down when they realised she was the actor's daughter and offered her a chair to sit next to the wheel-chair bound actor.
The event was also attended by PC George, father-in-law of Jagathy's elder daughter Parvathy Shone.
Meanwhile, Sreelakshmi who spent a good 10 minutes with her father, left the stage after kissing him.
She later told the media that her father recognised her and that she talked to him about her studies.
However, the dramatic turn of events did not go down well with Jagathy's elder daughter Parvathy Shone, who claimed that Sreelakshmi's act was to 'defame' her father and was for 'financial gains'.
"It's a drama staged by those who have enmity towards my father to defame him and to play spoilsport at the event...There were two cars full of goons who had accompanied Sreelakshmi. They were armed when they came near the hall where the function was in progress. Sreelakshmi's move is targeted at financial gains," Parvathy told Manorama Online.
Parvathy also added that Sreelakshmi is not allowed to meet Jagathy without the court's permission.
"Sreelakshmi is not allowed to meet father without court orders. Yet, she was allowed to see him on humanitarian grounds when he was brought from Vellore hospital."
Jagathy maintained secrecy about wife Kala and daughter Sreelakshmi for years. The actor later surprised everyone when he revealed about Sreelakshmi a few days before he met with a road accident in Malappuram in 2012. The seriously injured actor remained in hospital for over a year and had not appeared in public until Sunday (28 June).
In the meantime, Kala and Sreelakshmi had approached the court for seeking permission to visit Jagathy; the case was closed when the actor's legitimate family agreed to it.
Now, Kala has told the media that Sreelakshmi was not being allowed by Jagathy's family to meet her father, due to which Sreelakshmi forced her way at the function to visit her father.
Most memorable day.. And so can't sleep too..... Don't know what I'm gonna face in life from tomorrow .. Anyways I'm ready to face anything.. Bcz I believe God is great and his powers can create miracles ❤️

Posted by Sreelakshmi Sreekumar on Sunday, 28 June 2015