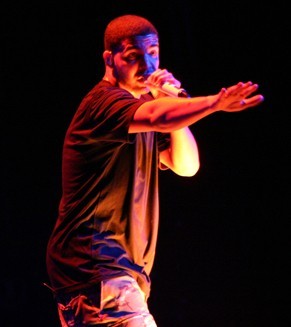 Drake is reported to have rekindled romance with ex-girlfriend Zoe Kravitz. The rapper was seen cozying up to Lenny Kravitz and Lisa Bonet's singer daughter in Toronto on 3 June, says report.
Apparently, Drake and Kravitz got "hot and heavy" at Mod Club in Toronto where the latter's band was performing, suggested an eyewitness to Hollywoodlife.
The former lovers supposedly also hung out the following night and got really close to each other.
"Drake and Zoë hung out last night," the insider tells E! News. "They were all over each other."
However, it is understood that Drake does not want to commit to Kravitz and is just hooking up with her.
"They're clearly hooking up. Nothing exclusive. They both travel the world, have millions of dollars. They have fun together," the source further said explaining the status of Drake and Kravitz relationship.
This is not the first time that Drake has been spotted with Kravitz. The two sparked romance rumors when a photo of the OVO star in his tour bus with actress was posted on the rapper's fan site. In the photo, the two were seen packing in a PDA, reported the Website.
Just three months before Drake was rumored to be a serious relationship with Rihanna. The couple was seen painting the town red on various occasion and even got in a PDA during L.A Clipper game. However, they broke-up, as Jay Z did not want to commit to Rihanna.
"I'm not saying it's a wrap, but it's getting there. In all honesty, he would much rather be her friend," a source revealed to HollywoodLife. "He loves her too much to get into something that's not going to work. He doesn't want one of them to get hurt in the end so he really just wants to be her friend and that's where things are now."
However, Rihanna does not want to be Drake's friend.
"It's been happening for the past few weeks but Rihanna's been avoiding him because she knows it's coming," the source further revealed adding, "She's not stupid. That's she's not. But stubborn, yes! The thing with her is that she likes the back-and-forth and the mistakes and the arguments that she and Drake have for love. He chalks it up to the fact that she's been in very immature relationships with very young men and doesn't know that when you're in love, there are no arguments."
Drake neither confirmed relationship with Rihanna nor dating rumors with Kravitz.