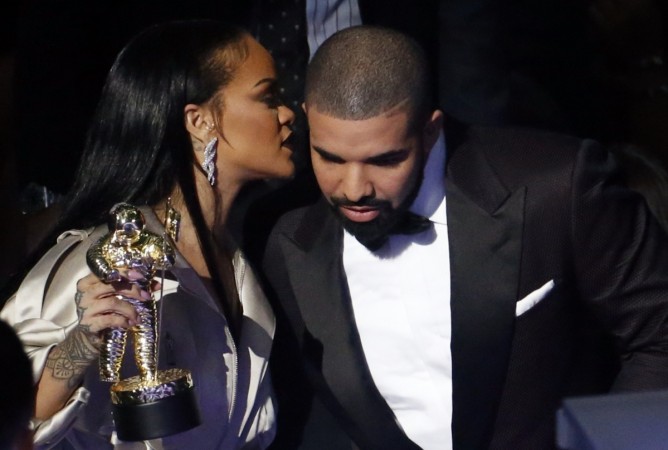 It looks as if Drake is giddy in love. The Canadian rapper has been gushing about Rihanna at every concert and award show ever since they went public with their relationship. If Drake appeared emotional while giving his girlfriend the Video Vanguard Award during the MTV VMAs, then it was nothing compared to what he felt during his recent concert in Los Angeles on Sept. 10.
To be sure, it's quite common to see Drake and Rihanna perform together at concerts. The "Too Good" rapper has appeared on stage during her ANTI world tour and so has she on his Summer Sixteen Tour. And while the two have shared a wonderful chemistry on stage, it was different at Drake's L.A gig which took place at Staples Centre.
Drake aka Aubrey Drake Graham expressed how happy he is to be dating Rihanna. He indicated that he feels grounded and told his fans, "I pray that you find somebody that holds you down like this woman right here."
Drake and Rihanna seem to be in love after years of having an on-again off-again relationship. Although the rapper has often expressed his love for the Barbados native, she's been reluctant to speak about her relationship with Drake. However, Rihanna has been displaying PDA during her recent concerts. The two shared a kiss at his concert in Miami and hugged each other during the VMAs.
While the two seem to enjoy each other's company, reports suggest that Drake wants to take the relationship further. According to a Hollywood Life report, the 29-year-old rapper wants to move in with Rihanna.
A source told the outlet, "Not to just play house, but to start making memories together and laying down some roots. Drake's really about that life and wants that with Rihanna."
It's not yet clear if Drake and Rihanna will move in anytime soon, but if there's one thing that's certain, it is this: Drake is going to make his girlfriend feel special at every opportunity he gets.