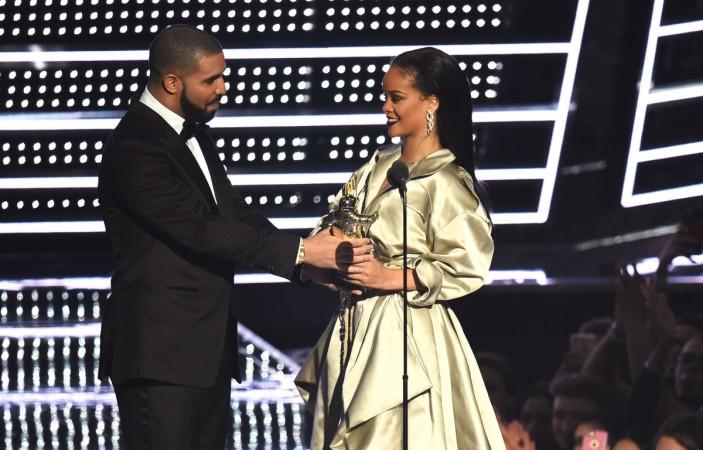 Canadian rapper Drake has revealed that he once desired to start a family with Barbadian singer Rihanna. The 31-year-old has also opened up about his son Adonis.
"As life takes shape and teaches you your own lessons, I end up in this situation where I don't have the fairy tale, like, 'Oh, Drake started a family with Rihanna and this is like so perfect'...it looks so good on paper. By the way, I wanted that too at one time," Drake said in an interview on HBO series The Shop.
Although Drake did not have a family with Rihanna, he did have a son with Sophie Brussaux, a former adult film star, in 2017. Drake confirmed that Adonis is his son on his track called 'March 14'.
Drake continued, "I have a son, he's a beautiful boy. "You know he's already in the pool like shooting the basketball. He's gonna get to a certain age, I'm gonna bring him right to 'Bron's house and I'ma be like, 'Yo, summer camp at Bronny's house!"
The 'God's Plan' singer expressed how he will be co-parenting with Sophie who isn't his better half. "I am a single father learning to communicate with a woman who, you know, we've had our moments. I do want to be able to explain to my son what happened. But I don't have any desire for him to like not love his mother or I don't want like, I don't ever want the world to be angry at his mother. Like, we have found ourselves in a situation and we are both equally responsible and now, like, I'm just really excited to be a great father."
Drake now wants his son to be brought up in a loving and nurturing environment unlike his. "Because I want [my son] to love his mother and I have to project that energy," he said. I want [my son] to love his mother and I have to project that energy," he said. "But I didn't come from that. I came from my mother being like, 'Nah, your dad is this.'" But one thing my dad would never speak ill of my mother, ever ever ever, and my mother is the nicest, kindest, sweetest woman, but she's a woman scorned and a woman who, you know, is exhausted."