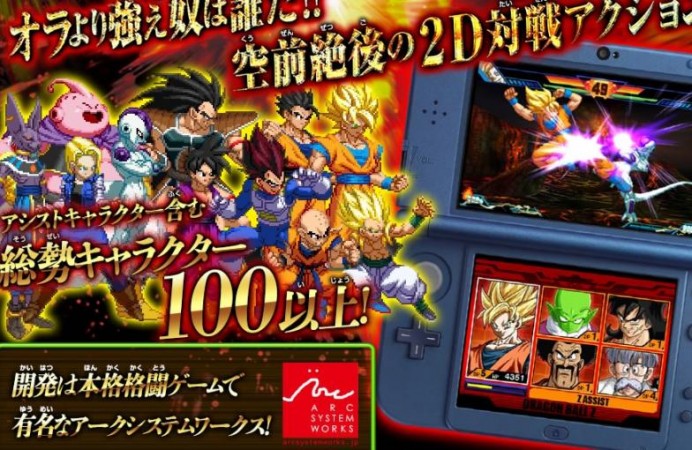 With Dragon Ball Z Extreme Butoden finally been shown a green light for a Western release this October, it seems like Bandai Namco still has enough in its bag to show fans that it cares by also revealing a brand new bundle pack that will arrive alongside the Extreme Butoden.
According to reports, the bundle pack will include the new black 3DS, alongside exclusive cover plates. However, the bit that's really got us excited is that Western fans will also be getting a download code for Super Butoden 2 with the bundle pack.
Previously, Bandai Namco had already confirmed that Dragon Ball Z Extreme Butoden will be heading to Nintendo 3DS in Europe, the Middle East and Australia starting 16 October, while the United States will see the release on 20 October.
Before this, there was a bit of doubt whether Dragon Ball Z Extreme Butoden, Arc System Works' upcoming 2D Dragon Ball Z fighter for the Nintendo 3DS, will head to the West or not. However, all those concerns can be laid to rest now.
As of now, the new 2D Dragon Ball Z game is said to boast of up to 20 playable characters, all loaded with "amazing features" and "more than 100" supported characters at the helm.
"Bandai Namco is listening to fans and will keep on surprising them over the next few years," Herve Hoerdt, vice president, Marketing & Digital, Bandai Namco Entertainment Europe, previously said. "In the meantime, everybody will enjoy a high-quality fighting game based on one of the most emblematic Anime & Manga ever created!"
For that matter, Dragon Ball Z Extreme Butoden's full character roster has already been revealed. The playable characters that were listed include a special Super Saiyan God SS Goku for players, who will transfer their saves from the demo to the full version of the game.
Here's a sneak-peek at the Dragon Ball Z Extreme Butoden:
Stay tuned for more updates!
[Source: Forbes]