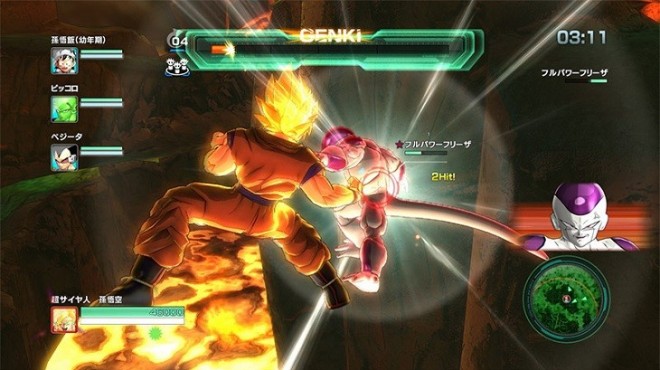 Publisher Namco Bandai's upcoming fighting video game Dragon Ball Z: Battle of Z gets a new trailer, showcasing newer characters and fights.
The three-odd video shows not only the main characters but also the side characters getting bigger space in the game. The trailer also showed the addition of the new Synchro system in the game reported GamingBolt.
Dragon Ball Z: Battle of Z game supports group-based fighting; it has a four player mode and an eight player Battle Royale mode. Players will be able to synchronise with other fighters and attack an opponent simultaneously. The game also provides for ability to use combo tactics where the enemy can be pushed into the hands of a partner and juggled across the battlefield. The game will also feature online multiplayer and dynamic boss battles.
Players will be able to take on Bills as Super Saiyan God, Goku or with four different versions of Goku. Players will also be able to take on bigger enemies like Saiyan Great Ape and Hildegarn.
Confirmed characters include Goku (Base, Super Saiyan, Super Saiyan 2, Super Saiyan 3, Super Saiyan God), Kid Gohan (Base, Great Ape), Teen Gohan (Base, Super Saiyan, Super Saiyan 2), Adolescent Gohan (Base, Super Saiyan, Super Saiyan 2, Guldo, Jeice, Burter, Recoome, Captain Ginyu, Dr. Gero/Android 20, Android 16, Android 17, Android 18, Android 19, Cell (Perfect form), Broly (Super Saiyan, Legendary Super Saiyan), Hirudegarn (Final Form), Majin Buu, Super Buu (Base, Gohan absorbed), Kid Buu and Bills, according to Wikipedia.
The game is expected to hit stores in Japan on Jan 23, 2014 for PlayStation 3, Xbox 360, and PS Vita. North American and European release dates are not yet announced.
(YouTube Courtesy: AGBMedia)