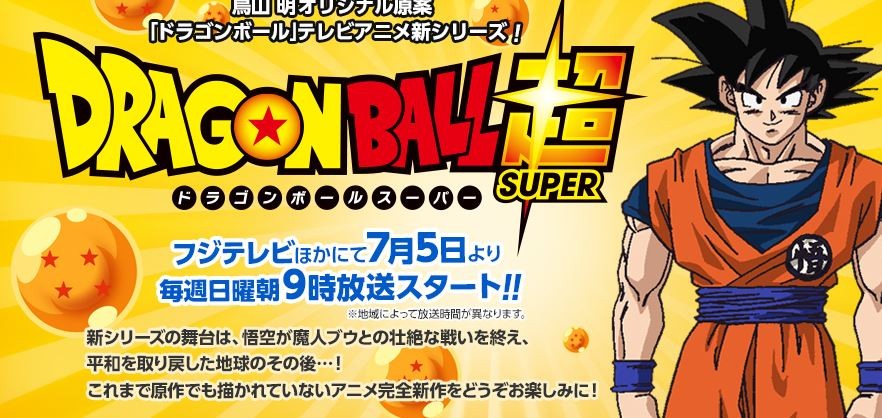 Dragon Ball Super, the upcoming anime TV series, received its own full official logo. It has been noticed that the logo retains the original "Dragon Ball" from the Dragon Ball Z series.
The logo was revealed in the game's official website, which also carries an image of Goku giving a sheepish smile.
Dragon Ball Super is the first anime TV show being aired after a gap of 18 years. The last one was 1997's Dragon Ball GT. But many fans were unhappy with the direction it took and were relieved to find that the new logo that was revealed was different from that of Dragon Ball GT.
It must be noted that this TV series is penned by the famous Akira Toriyama with Toei Animation as the studio in-charge and Chioka Kimitoshi as its series director.
Norihito Sumitomo will score for Dragon Ball Super. Sumitomo has also scored previously for Dragon Ball GT, 2013's "Dragon Ball Z: Battle of Gods" movie and 2015's "Dragon Ball Z: Resurrection F" movie.
The opening song will be performed by Kazuya Yoshii and song's title is "Chōzetsu Dynamic" (Excellent Dynamic). The end theme is being performed by Good Morning America, who are a rock band and the title of the song is "Hello Hello Hello."
Dragon Ball Super will hit Japanese TV screens at 9am on 5 July on Fuji TV. Fans can also follow Toriyama's manga adaptation of the show on the V Jump magazine.
Though there is currently no information on Dragon Ball Super's release to Western audience. It has been speculated that it might be coming in 2016.
[Source: Attack of the Fanboy]