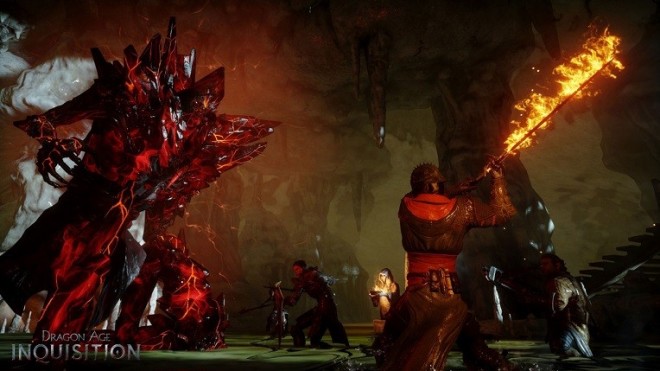 The upcoming action RPG title, Dragon Age: Inquisition from developer Bioware and publisher EA, has a stunningly brilliant trailer showcasing the story and in-game clips.
The setting of Inquisition will be in Thedas and it will have a bigger map compared to the previous games in the series. The game will begin with the events that unravel at a peace conference where the warring mages and templars sit to discuss, however, an explosion takes away most of the ruling classes.
To fill this vacuum is the Inquisitor, who lands from the Fade and arms up against demons. Also, players can choose their belief when it comes to the protagonist being sent to be the leader. The Inquisition is created to restore order of the land using factors like military, espionage and trade.
"We want to show people the central premise of the game, including the Inquisitor and how it is related to the Fade. You can also see some of the great personality of the game and the scale of this open world," said Mike Laidlaw, creative director, Polygon reported.
The game will be releasing on 7 October 2014 for PC, PlayStation 3, PlayStation 4, Xbox 360 and Xbox One.
(YouTube Courtesy: Dragon Age)

Details of Digital Deluxe Edition Revealed
The Digital Deluxe Edition for PC has been revealed by the publisher, EA. It includes details of the bonus items like soundtrack in the Edition.
This edition is priced at $69.99 and will give players bonus items like digital soundtrack, Flames of the Inquisition DLC pack and not yet specified digital content.
Digital Deluxe Edition includes the following:
Skyhold Throne - Every ruler should sit in a place of high honor, but as the Inquisitor you will have the greatest of all, fashioned from an ancient dragon skull.
Red Hart Halla - Traverse the perilous, living world atop this great-horned beast.
Bog Unicorn - Once belonging to an evil marauder, this unique mount has returned to inspire fear into those who would oppose you.
Bring the world of Thedas wherever you go with the Dragon Age: Inquisition digital soundtrack
Bonus digital content - to be announced
Multi-class Weapons: Smite your enemies with the Flames of the Inquisition weapons arsenal. Whether staff or daggers, greatsword or war hammer, these weapons will make short work of your foes.
Inquisitor Armor: Protect yourself against the onslaught of enemy attacks by suiting up in the Flames of the Inquisition Armor.
Armored Mount: Flames of the Inquisition gear also includes a valiant steed, complete with its own set of Inquisition Armor forged from the flames of battle.
Image credit: dragonage.com
(Ed:AJ)