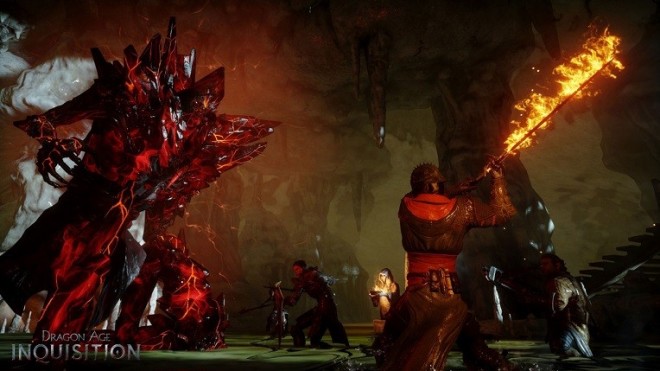 EA released a new Dragon Age Inquisition trailer and gameplay demo at the ongoing Gamescom 2014. The demo aims to showcase the immersive abilities of the game with its developer BioWare taking the platform to release the video.
BioWare said in the video that this is the largest geography that the developer has built and includes coasts, barren desert, mountain passes and green forests. The game will also have nine characters which is the most number of characters in any Dragon Age.
The video shows a side mission in the game that starts in Skyhold which is the headquarters of the Inquisition. One of the player characters will be deciding where to go next and what to do.
The game will have a new character creation system that will provide players with numerous options. It will have nine class specialisations, 21 combat trees, more than 200 spells and abilities, more than 200 weapons upgrades schematics, 150 types of armor and 80 different type of material added in Dragon Age Inquisition. Not only that, players will be able to name the creations they make.
It also speaks about the use of the tactical camera that will be used to pause the action to let players plan their action strategically. This will allow other characters to be position is a particular way allowing them to battle a particular enemy. The combat in the video showcases third-person hack-and-slash.
The video show lot of undead who will be roaming the place and players can ignore them if they think they are not too harmful. But it shows the Avvar barbarians who would have taken some of the Inquisition soldiers as hostage and who have to be defeated.
It had been announced in July that Dragon Age Inquisition would be delayed by a month and this delay would give its developers more time to polish the title and make it more engaging.
Dragon Age Inquisition is scheduled for release on 18 November in North America and 21 November in Europe for PC, PlayStation 3, PlayStation 4, Xbox 360 and Xbox One.
Meanwhile, Phil Spencer, head of Xbox, was all praise for Dragon Age Inquisition. He tweeted saying, "Dragon Age looks great. Perfect BioWare game."
(YouTube courtesy: Dragon Age)
(YouTube courtesy: MKIceAndFire)