Sandalwood's matinee idol Dr. Rajkumar' memorial was inaugurated on Saturday, 29 November, at Kanteerava Studios in Bengaluru. South Indian film stars Rajinikanth and Chiranjeevi were the special attraction of the event.
At the inaugural function, Rajinikanth took the crowd by storm with his speech. Here, we bring you some highlights.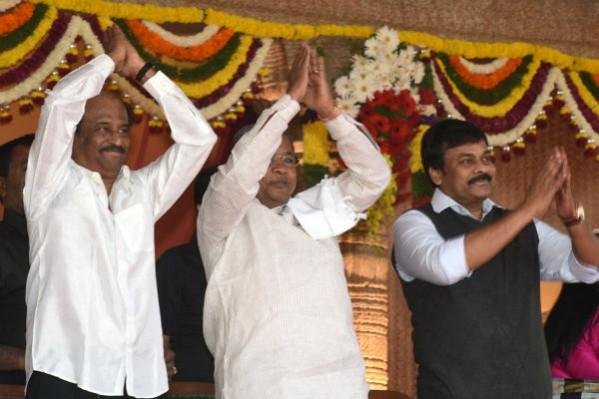 1) Rajinikanth speaks fluently in Kannada and impresses guests and audience.
2) Occasionally, he uses Tamil words in place of Kannada words in his close to 10-minute
speech.
3) About Rajkumar he says Karnataka is lucky for being blessed with the son of goddess Saraswathi.
4) Recalls Dr.Rajkumar's journey in film industry.
5) The only autograph Rajinikanth took in his entire life is from Dr.Rajkumar and says that he
never took from any others.
6) Remembers an incident where Rajinikanth had taken Dr.Rajkumar for a walk in Bengaluru.
Many people like a bus driver, car mechanic, a groundnut seller said Namaste to the late icon.
Raj later told him that the respect given by the people was not for him but it was for the
Goddess Saraswathi in him. We should not let the ego of stardom rule us, Raj told Rajini.
7) Dr.Rajkumar was a good son to his parents, a good husband to his wife, a good father to his
children and a good icon to his fans. He performed all his duties sincerely.
8) Rajinikanth asks people to maintain silence when they visit the memorial as it is a peaceful
place where Dr.Rajkumar is laid to rest. Perform prayers and he will bless you, he tells
audience.
9) In the coming days, this memorial will be a temple and a place where miracles will happen.