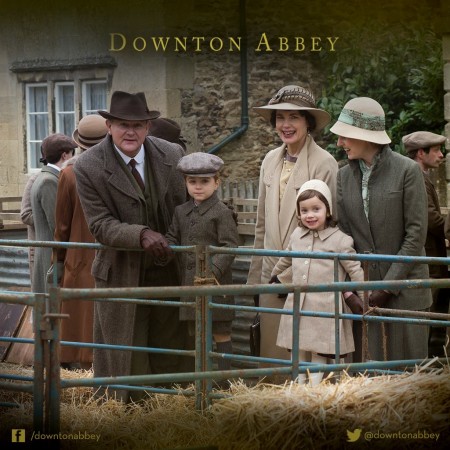 Ever since season 6 of British period drama "Downton Abbey" premiered, fans have been wondering if one of the key characters, Lady Mary (Michelle Dockery), will fall in love again. The eldest daughter of the Crawleys has been unlucky in love so far; nonetheless, she has had a slew of potential male suitors who have found her charming and quite strong. Lady Mary's love life will be explored further in Season 6 Episode 6.
In the upcoming episode of "Downton Abbey", Lady Mary will surprise her current love interest, Henry Talbot (Matthew Goode),in London. In the promo, her helper Anna (Joanne Froggatt) is seen asking her if Henry is aware of her plans. At this point, Lady Mary revealed very little, perhaps she was anxious about meeting Henry. However, she did look excited.
The video shows the two having dinner with friends and we wonder if their story will progress beyond the formality of a friendship.
Meanwhile, the estate opens its doors to strangers and old acquaintances. The sneak-peak video reveals that Crawleys will organise an open house. Although their reason for doing so is unknown, we predict that the ticketed event has something to do with the financial crisis plaguing the local hospital. While there are several unfamiliar faces who enter the historic estate, Lady Edith (Laura Carmichael) and her family find comfort in the fact that Bertie Pelham (Harry Hadden-Paton) is present at the same time.
The latest episode of "Downton Abbey" will allow the show's fans to be happy at the prospect of romance in the Crawley sisters' lives, especially after last week's horrifying incident involving Lord Grantham (Hugh Bonneville) and his stomach ulcer.
Season 6 Episode 6's synopsis released via TV Guide reads:
The battle over the hospital reaches a climax; and Violet goes on the warpath. In other events, Daisy attempts to foil a romance; prospects are looking up for both Mary and Edith; and Thomas feels trapped.
"Downton Abbey" Season 6 Episode 6 will be aired on Sunday, 6 February, at 9pm on PBS Masterpiece.
Watch the promo here: