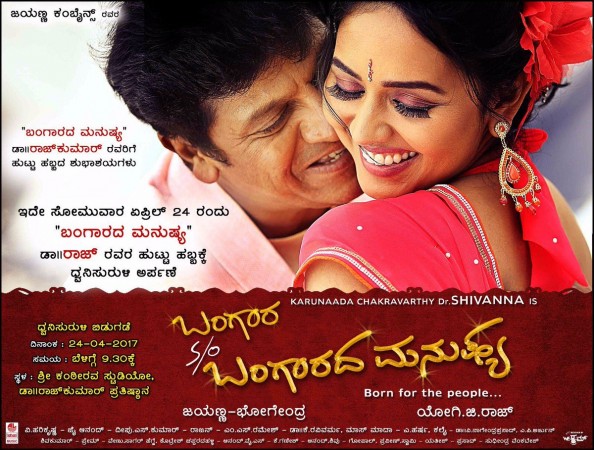 The audio of Shivaraj Kumar's Bangara S/o Bangarada Manushya and the making video of Tagaru have been unleashed on Monday, April 24, to coincide with the birthday celebration of Sandalwood's matinee idol late Dr Rajkumar.
Bangara S/o Bangarada Manushya
V Harikrishna, the man who is known for his mass songs, has composed the music for Bangara S/o Bangarada Manushya. He has churned out five different songs using the vocals of Karthik, Sonu Nigam, Anuradha Bhat, Tipu, Priya Himesh, Vijay Prakash and Chintan Vikas. V Nagendra Prasad, and AP Arjun have penned the numbers.
Of all the tracks, 'Thenege Thene' has piqued the fans' curiosity. It is said to be about farmers and expected to stuck a chord with the viewers. Sonu Nigam and Anuradha Bhat's melodious 'Neeli Neeli' is said to be the trump card in the album, which comprises five songs.
Bangara S/o Bangarada Manushya is written and directed by Yogi G Raj and jointly bankrolled by Jayanna and Bhogendra. Vidya Pradeep is the female lead in the flick, which has Srinath, Shivaram, Chikkanna, Sadhu Kokila and others in the cast. The Kannada flick will hit the screens in May.
Tagaru
On the other hand, the makers of Tagaru released the making video of the movie on the midnight of April 24. A clip projecting some of the best moments on the sets have been highlighted.[Watch the clip below]
Over 70 percent of the shooting has been completed. The film has Bhavana in the female lead, while Dhananjaya and Manvitha Harish will be seen in negative characters. It has Charan Raj's music and Mahendra Simha's cinematography.