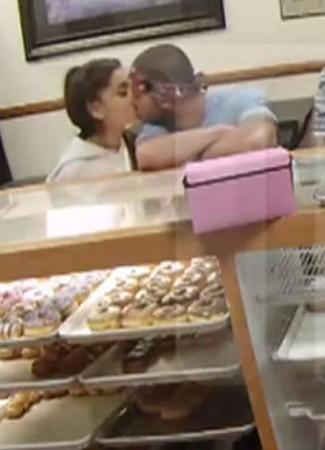 Singer Ariana Grande's donut licking incident is reportedly being investigated by the police as well as public health officials.
Grande landed in trouble a few days back when a video surfaced that showed her licking donuts at a shop in Southern California. In the same video she was also heard saying she hated America.
A cashier who was present during Grande's visit to Wolfee Donuts told Associated Press that the pop singer was very rude and that she did not buy any of the donuts that she allegedly licked.
Dottie Ellis-Merki, a spokeswoman for the Riverside County Department of Environmental Health, told Associated Press that the agency was investigating why the sweet treats were left uncovered, as this was in violation of state food laws.
"During the investigation, the manager did state they normally don't leave donuts out like was shown in the video," Ellis-Merki said. "The employee went to the back to retrieve freshly made donuts by request of the customer and left the trays out while getting other trays."
It is not immediately known if the donuts that were licked were thrown away or sold to other patrons.
Meanwhile, the 22-year-old posted online an apology video saying she was ashamed of her immature behaviour.
"Seeing a video of yourself behaving poorly, that you have no idea was taken, is such a rude awakening, that you don't know what to do -- I was so disgusted with myself," she said. "Not here to make any excuses or justify my behaviour, because I can't... I'm just here to apologise."
In an earlier statement Grande also said she regretted saying she hated America when a fresh batch of donuts were placed in front of her.
"I am EXTREMELY proud to be an American and I've always made it clear that I love my country. What I said in a private moment with my friend, who was buying the doughnuts, was taken out of context and I am sorry for not using more discretion with my choice of words," Grande's statement read.