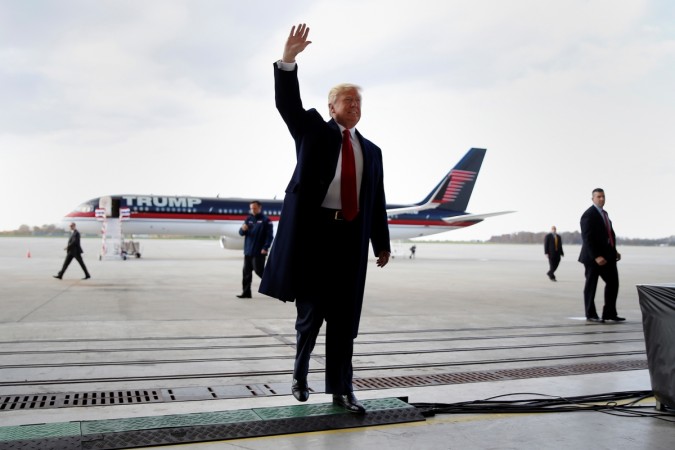 Depending on which side of the Atlantic you're on, you can't ignore the fact that today is also 9/11 and some worlds have come crashing down: Donald Trump has charged ahead of Hilary Clinton and Narendra Modi has stunned India by demonetising Rs 1000 and Rs 500 currency notes overnight. Literally. The stock markets have been in freefall and, if a part of the hall at Hotel Taj Palace on the concluding day of the India-UK Tech Summit was empty, it's because the delegates had more important things on their mind this morning.
At the start of the session on Innovation & Entrepreneurship, the unsmiling NR Narayana Murthy, Co-founder of Infosys, looked worried probably because business from the US is at real risk with Candidate Trump having become President Trump.
The UK team, meanwhile, was trying valiantly to stay top of mind: a British Airways promotional leaflet on the table offered a 12% discount on air fares while the public address system subtly played the 1968 classic from 'Kismat' in the background: "Aao huzoor tumko sitaron mein le chaloon..." (loosely translated as "Come, sire, let me take you to the stars..." Subliminal advertising?
The session started with CNBC TV18's Young Turk anchor, Syna Dehnugara, asking both Narayana Murthy and Saurabh Srivastava, Founder of the Indian Angel Network on their reactions to the previous night's surprise demonetization. The Infosys co-founder was emphatic in lauding the move: "The Prime Minister is working very hard to reduce corruption, black money a big scourge of any developing country and he is a great supporter of the digital economy. This is a masterstroke because he has achieved progress in each of these dimensions."
Saurabh Srivastava agreed: "You need some very bold steps given the amount of black money we have. And this is excellent for the startup eco-system." As Narayana Murthy elaborated, entrepreneurs would probably find office spaces with ease now since real estate is certain to be impacted with black money going out of the equation. It would also motivate entrepreneurs to look at digital payment solutions. A point worth noting was that since 1977, net new jobs in US had been created by startups less than three years old.
When Saurabh Srivastava asked Narayana Murthy why he had created Infosys at a time when startups weren't fashionable, he recounted his days in Europe in the early '70s when he realised that the only way society could solve the poverty problem was by creating jobs. "Only entrepreneurs can create jobs, Government can incentivise entrepreneurs." He did admit though that he had never dreamt Infosys would become what it is today: "Our focus was on bettering ourselves every day. We focused on earning respect first, revenues later. Focus on values has been there since Mahabharata and will be there." He exhorted youngsters to do things the right way because "doing the right thing will not go out of fashion."
Both speakers recalled how the setting up of NASSCOM had been tough when the scenario was difficult. Saurabh Srivastava said, "The ambition then was to be a billion-dollar industry. Today, India's IT exports are $ 100 bn. If you stay the course and do the right thing, provided it's an idea who time has come, success will come."
Switching gears, both Saurabh Srivastava and Syna Dehnugara getting the Infosys co-founder to disclose some untold stories on when there had been disagreements among his fellow founders. But he would not bite the bait and every attempt to peep into boardroom skirmishes failed and all that the audience got was philosophical lessons in building team spirit, ESOPs and trust.
Syna Dehnugara then provoked her panelists on Brexit and the looming protectionism of America under Donald Trump to which an emphatic Narayana Murthy maintained "Protectionism is not the solution to enhance innovation. The Government's job is to make it easier to do business, to improve the quality of life."
However, it was left to Saurabh Srivastava to say what would strike home: "We should have trust in our own abilities. When the US thrived, we almost went bankrupt because we were protected. Opening up the economy in 1991 helped us thrive... if we do things right, India can become the place for everyone to do business and we will look like America. We will look like we used to be 500 years ago when everyone came to India."
Clearly, the imminent shutting of doors in UK and USA represents a unique opportunity for India provided it can open its doors when every other nation is shutting theirs. "This is India's time," urged Saurabh Srivastava.