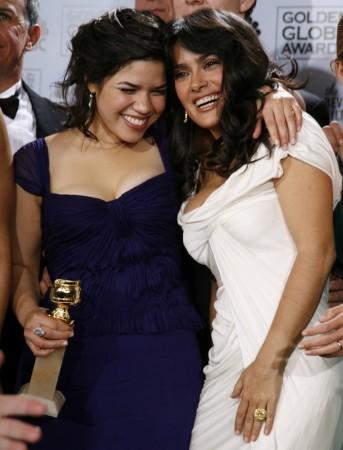 As we all know, Donald Trump has announced his decision to run for President of the United States in 2016, and while comedians are having the time of their lives, Latinos do not seem very happy. As expected, Trump made some outrageous remarks, showed proof that he is in fact as rich as he claims to be and made clear that his stand on immigrants has not changed.
On top of making some ridiculously racist remarks, Trump said: "When Mexico sends its people, they're not sending their best. They're not sending you..They're not sending you [points at random people in the audience]..They're sending people that have lots of problems...They're bringing drugs, they're bringing crime, they're rapists." But, Trump isn't anything if not fair and to prove that, he added, "And some, I assume are good people."
Understandably, Latino immigrants, especially Mexicans, were extremely offended by his speech and many Latino celebrities spoke up in defence of their community. "Ugly Betty" star America Ferrera even wrote an open letter to Trump via Huffington Post, wherein she thanked him for uniting the Latino voters against him.
"Remarks like yours will serve brilliantly to energise Latino voters and increase turnout on election day against you and any other candidate who runs on a platform of hateful rhetoric... Do you know why that's such a big deal, Donald? Because Latinos are the largest, youngest and fastest-growing constituency in the United States of America.," said Ferrera.
Fellow Latino actress Eva Longoria congratulated Ferrera for her letter and had vehemently made a remark, which was misinterpreted by many as they thought she was comparing Trump to Hitler. She later clarified on Twitter, "My statement has been dramatically mis-characterised. I'm NOT and WOULD NOT ever compare Trump to that psychopath. Of course I'm NOT saying Donald Trump himself is dangerous, but that WORDS can be dangerous. I was referring to the quote 'The word is so powerful that one word can change a life or destroy the lives of millions.'-Don Miguel Ruiz, Four Agreements."
Mexican-born Salma Hayek tweeted, "I am heart broken by the hate and racism this beautiful country, that stands for freedom, has still not been able to overcome. Anyone with hate in their heart, wanting to split America, remember sacrifices men & women of every race & colour make daily in armed forces. In times of war, they risk their lives for our dream of freedom... And let's not forgot that if we are not of Native American descent, then we all came to this country from somewhere else!"
Columbian singer Shakira also tweeted in retaliation, " This is a hateful and racist speech that attempts to divide a country that for years has promoted diversity and democracy! No one living in this century should stand behind so much ignorance."
"Secret Life of an American Teenager" star Francia Raisa, who of Honduran and Mexican descent also tweeted, "Like many others, I too am disgusted by Donald trump and his words about latino immigrants. Thank you... https://instagram.com/p/4o614epg9E/".
Although Columbian actress Sofia Vergara did not personally address Trump's statements, she did retweet "Modern Family" writer Danny Zuker's tweets on Trump's merchandise being pulled out of stores and companies wanting to break contracts with him:
.@realDonaldTrump Yes I'm sure it's about the trade deal and nothing to do with you calling their viewership rapists. pic.twitter.com/nbZwX7COwB

— Danny Zuker (@DannyZuker) June 28, 2015