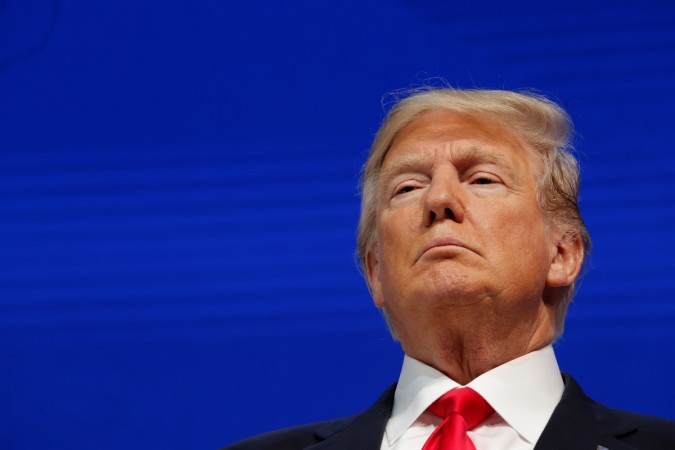 In a recent interview with British broadcaster Piers Morgan, the US President Donald Trump has declared that he's not a feminist. He, however, clarified, "I think that would be, maybe, going too far. I'm for women, I'm for men, I'm for everyone."
The interview was conducted on the sidelines of World Economic Forum in Davos, Switzerland on Thursday. Post the interview, the TV host has been promoting his show by tweeting snippets of his interview with the controversial US leader.
Morgan tweeted an image with Trump and broke the news about the Commander in Chief not really identifying himself as a feminist: "Breaking News: President Trump has declared he is not a feminist".
Describing the interview in a Daily Mail column, Morgan said that he wanted to ask the President a question that nobody had asked earlier. Following which, he asked Trump "Do you identify as a feminist?"
Trump, after listening to the question, smirked and said: "No, I wouldn't say I'm a feminist. I mean, I think that would be, maybe, going too far. I'm for women, I'm for men, I'm for everyone. I think people have to go out, they have to go out and really do it, and they have to win. And women are doing great, and I'm happy about that."
However, the latest 'revelation' from Morgan's show came as no shock as everyone is well aware of the statements Trump has made in the past about women. From uttering "grab em by the p****" to having many sexual harassment allegations against him publicly, Trump has often found himself at the centre of misogynistic controversies.
However, the moment Morgan 'broke the news' about Trump's stance on feminism, Twitterati took great interest in the statement. A plethora of memes and sarcastic tweets have already surfaced across many social media. Here are some of the best.
Can't wait for the meltdown on here tonight after the interview. Got my popcorn ready.

— paul fairhurst (@bunglebeano) January 28, 2018
Breaking news I just realized your name is an anagram for "orange prism" which is what this picture is

— 186 days ago Trump promised 24-hr Hezbollah answer (@MattNegrin) January 28, 2018
BREAKING: Trump is not a feminist. Someone please hold my beer as I gasp.

— Shannon Thomas (@LadyL1beration) January 28, 2018