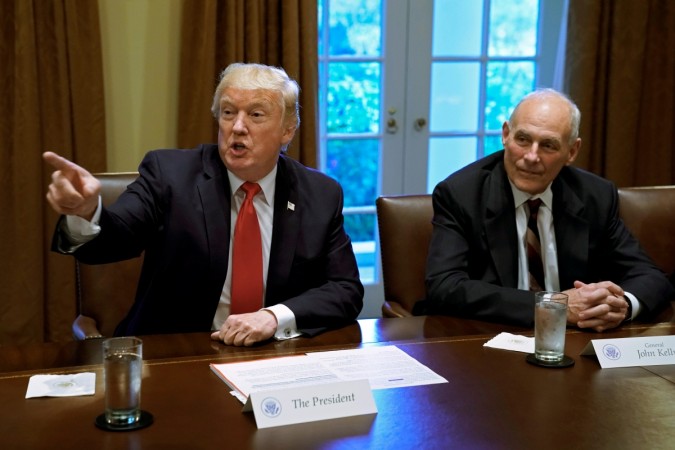 The White House has reportedly told the Trump administration staff to decide whether they intend to stay or leave by the end of January. It is also said that the White House is finding it difficult to fill up vacancies due to an anticipated staff exodus.
A deadline has been given for the staff to decide whether they intend to stay through the November midterm elections, as per reports on CNN.
With the resignations and sacking of many top aides since Trump took charge in the Oval Office, there have been reports of many allies of the president who are close to making their exit from White House.
Various news outlets, including CNN and Washington Post, have reported that there are a lot of top aides who are looking to leave the president soon. Senior officials like White House Counsel Don McGahn and HR McMaster, the national security adviser, are reportedly on their way out after Trump openly expressed frustration towards the two White House officials.
Trump's first year had to deal with all kind of drama, from the probe on Russian involvement in the US presidential elections to sexist comments that have led to many staff leaving White House. As per reports on CNN, after Trump took charge, the timings for the staff have been excessive and even the hectic work environment had taken a toll on their lives.
Furthermore, in the backdrop of the ongoing investigation on Trump's alleged Russian connection, his allies do not really work in the President's favour to bring in more recruits into the administration.
From the day he was elected, Trump has always been critical of bringing Republicans who oppose his ideologies into his cabinet.
According to reports of Business Insider, these are the list of people that have left the Trump administration or have been ousted while working with the President-
Michael Dubke, Katie Walsh, Preet Bharara, Sally Yates, James Comey, Michael Flynn and Sean Spicer, to name a few.
The second year of Trump administration has not seen any exodus nor are the staff departing, White House press secretary Sarah Sanders told CNN, "There has been no directive on staff departures and any suggestion otherwise is ridiculous fake news".