The special envoys of both countries have no role to play in resolving the ongoing military standoff in Sikkim's Doklam region, China has said refusing to acknowledge that the meeting between the national security advisers of both the countries took place for border talks.
China considers the border in Sikkim to be demarcated by an 1890 agreement signed between China and Britain, which ruled India at that point of time. Therefore, it sees no reason to involve the national security advisers of both the countries in the standoff.
This comes in the backdrop of a meeting between National Security Adviser (NSA) Ajit Doval and his Chinese counterpart Yang Jiechi that took place when the former visited Beijing in July for a meeting of the NSAs of the BRICS club (Brazil, Russia, India, China and South Africa).
Meanwhile, India has not accepted China's argument as it considers Sikkim to be a part of India but sees the boundary as something that is yet to be demarcated between both countries, Mint reported citing a person familiar with the development. Therefore it remains a matter of negotiation between the Special Representatives of both countries.
China's State Councillor Jiechi conveyed the country's stand to Doval and also told him that India must take "concrete actions" by immediately withdrawing troops from Doklam with "no strings attached" to resolve the standoff, PTI had reported earlier. Both Doval and Yang are Special Representatives of India and China respectively for border talks.
India has been involved in a military standoff with China for over 50 days now. It began on June 16 after China accused Indian troops of entering Doklam and stopping Chinese troops from constructing a road in the area. However, India responded by saying the border dispute is yet to be resolved and that China should "desist from changing the status quo".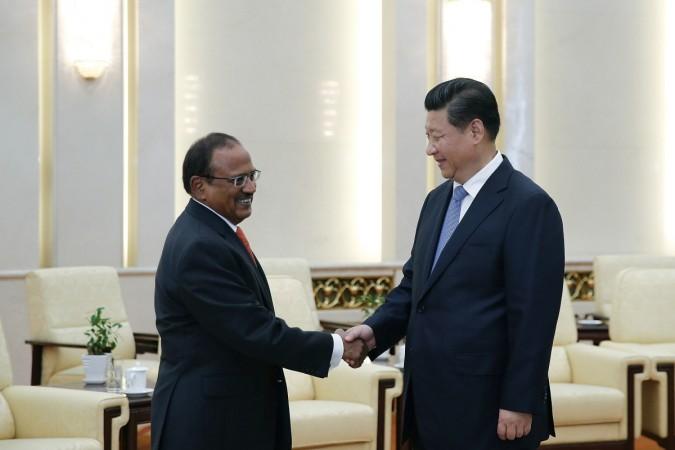 India also accused China of building roads on the India-China-Bhutan tri-junction and its People's Liberation Army (PLA) of intruding into Indian territory through Sikkim and destroying bunkers, while China has claimed India is provoking them and the issue can be resolved only if India withdraws its troops.
India fears that the road-building activity would allow Chinese troops to cut its access to the seven states in the Northeast.
Srikanth Kondapalli, a professor of Chinese Studies at the Delhi's Jawaharlal Nehru University, was quoted by Mint as saying that China's statement on NSAs having no role to play in the standoff is aimed at strengthening its demand that India withdraws troops from the region before talks can take place.
"This (China's stand) also seems to be aimed at provoking India but India is unlikely to respond beyond what it has already said, which is that its troops are in Bhutan in response to its commitment to security to Bhutan and that India's security is also affected by the Chinese presence in Doklam," Kondapalli said.
"I don't think India is likely to say anything more publicly on the subject but go on with quiet diplomacy that it is engaged in with China," he added.
Last week, External Affairs Minister Sushma Swaraj had said in Parliament that the demarcation of the boundary that falls at the India-China-Bhutan tri-junction would be resolved through consultation among the three countries, according to an understanding reached by the special representatives of India and China in 2012.