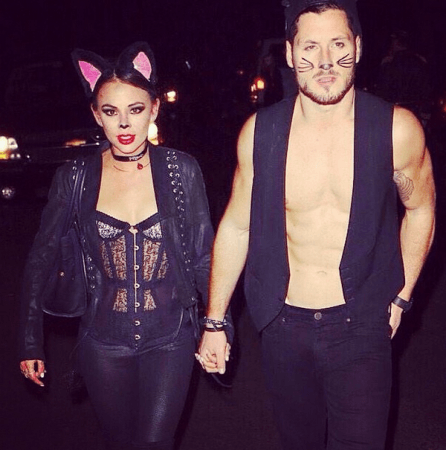 "Dancing with the Stars" partners Janel Parrish and Val Chmerkovskiy are yet to reveal if they are attracted to each other, although speculations are rife that they are dating, and this is why the actress' split from her boyfriend Payson Lewis.
Parrish and Lewis called it quits shortly after a video of Parrish kissing Chmerkovskiy was aired, which gave birth to romance rumours, and shortly after Chmerkovskiy and Parrish were seen on a double date with his brother Maksim Chmerkovskiy and his former dancing partner Meryl Davis.
"All good things must come to an end. Thank you for the happiest year and a half of my life. I will always love you @janelparrish and I wish you nothing but the best. Forever #teamjanel," Payson captioned an Instagram picture with his ex-girlfriend, announcing their split.
But Chmerkovskiy does not believe he was somehow responsible for their break-up, a source close to the dancer told HollywoodLife.
"Val is there for Janel for whatever she needs and if she wants to talk about her past relationship, he'll listen. But they don't really talk about it," the source said. "He doesn't pay attention to it at all. Plus, he doesn't think he was the reason for the breakup."
Meanwhile, Parrish wrote about her alleged romance with Chmerkovskiy on her People blog saying that she appreciated people applauding their chemistry.
"As far as the rumors of romance between Val and me, I just want people to focus on the dancing that we do and the hard work that we do. I appreciate that people see that we have chemistry," she wrote.
Interestingly, Parrish did not deny they are dating.
The couple was recently spotted together at a Halloween bash, where they indulged in a lot of public display of affection by kissing and holding hands. The two even wore matching outfits at the Casamigos Halloween party in Beverly Hills on 24 October.
Parrish and Chmerkovskiy have been getting good reviews for their performances and next Monday will see them heating up the ballroom with a contemporary number, which is said to be very sensual.