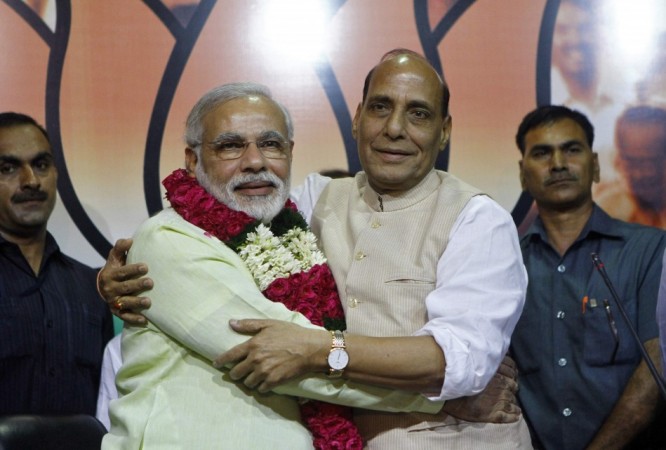 The top-most leadership of the ruling Bharatiya Janata Party was pulled into a muddy controversy of a 'power struggle' at the very top over an alleged rumour, and indicated that Prime Minister Narendra Modi may be distancing himself as an autocrat in the party.
After rumours spread about Modi having summoned Home Minister and former party president Rajnath Singh's son, Pankaj Singh, and rebuked him for "improper conduct", the media has been relentlessly churning out reports of a 'crack' in the BJP brass.
While Singh has dismissed the allegations against his son as "false rumours", he is believed to have brought up the issue with party president Amit Shah and the Rashtriya Swayamsevak Sangh, BJP's ideological parent.
In an emotional declaration before the media on Wednesday, Singh said he would retire from politics if the allegations against his son are proved.
"In the last 15-20 days, rumours have persisted about me and my family. I want to assure the nation that the day allegations, even though prima facie and even small, are proven against me or my family, I will quit politics and public life and sit at home," he said.
Expectedly, Shah tried to push away focus from any discomfort among his party's leaders and said, "As party president, I believe the conduct of all our ministers is of the highest standard and such propaganda is baseless".
The Prime Minister's Office also rushed to issue a statement – "The reports are plain lies, motivated and constitute an attempt at character assassination and tarnishing the image of the government. Those indulging in such rumour-mongering are damaging the interests of the nation. These reports are strongly denied".
However, these attempts came too late as the rumours had already spawned theories of a crack in the top-most level of the BJP government, and speculations about Modi turning into an autocrat and closely watching his own colleagues, even seniors such as Singh, grew strong.
Ironically, it was Singh himself who had pitched Modi as the Prime Ministerial candidate before the general elections that led BJP to a thumping victory.
The news of the rumour came just days after Shah, known to be Modi's right-hand, had shunted out seniormost party leaders LK Advani and MM Joshi from the top decision-making body and shunned them to the background, giving complete weild of power to the Prime Minister.
While this in-fighting may seem to be yet another case of political egos, given that party leaders hold important portfolios in the government, the issue of governance could also be in question.
This could be a serious test for the BJP and especially Modi to assure that there is no divide in the party that just recently took charge at the Centre.