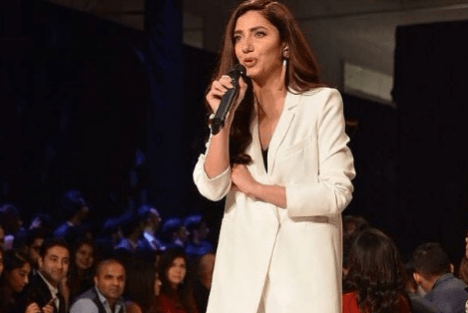 Mahira Khan, who grabbed headlines for her controversial pictures with Ranbir Kapoor, made quite a bold statement when she said that Bollywood was never really her aim: "Because how I look at it, is that 20 years from now when either my son or kids from today want to become actors, we would have set this industry for them, where they won't have to struggle so much." The actress presented her views on the talk show, HARDtalk on BBC World News.
While nepotism has been prevalent in Bollywood, it made headlines only after Kangana Ranaut called Karan Johar "the flag-bearer" during her appearance on his popular chat show last year.
The 33-year-old actress who has a son — Azlan, was asked if she ever thought of changing countries after her film Verna wasn't accepted in Pakistan positively, she said: "I don't think that I can tell any story better than the story of my own country, than stories of my own countrymen. I want to be able to bring out stories like Verna, as well as stories which are of the modern and new generation like Ho Mann Jahaan on the youth of Pakistan. I want to be that person. Because we are artistes, I think that's a problem we all suffer. We are dreamers, so we are constantly looking at what is going to happen. Honestly, that's all I'm thinking about all the time, that one day I will go to a cinema house and there just won't be enough space to fill it."
Mahira Khan's Raees released in January 2017, after the Uri attack on September 18, 2016, which left 19 Indian soldiers dead. And post that, Maharashtra Navnirman Sena issued a ban on Pakistani artistes because of which Mahira was not allowed to promote Raees in India. "At that time, I was sad and angry. Bollywood was never really the aim actually. I mean sure you could argue that I could have done more films there, for sure I could have. But right after Raees, I had already started working on (Pakistani film) Verna, even before all of this happened. My focus was always Pakistan," Mahira said.
She also spoke about the smoking pictures with Ranbir Kapoor that went viral. She said: "That was the first time in my entire career that I was caught up in a so-called controversy and it was strange because there were so many things in that. One, obviously you feel violated, you are in a personal downtime moment and someone has just photographed you."
On the professional front, Mahira is currently filming for Saat Din Mohabbat In and Maula Jatt 2.