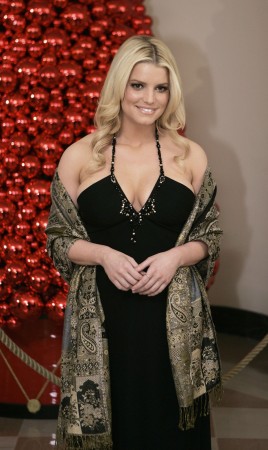 Jessica Simpson's family is reportedly concerned for her and they believe a rehab stint is the only thing that could help her deal with excessive drinking.
"She has a substance-abuse problem," a source told In Touch magazine about the 35-year-old singer, reported Radar Online. "She's taking Adderall and anti-anxiety pills. And on top of that, she drinks."
Focus on Simpson increased following her appearance on Home Shopping Network, where she was seen giggling and slurring her words constantly, thereby sparking rumours she could have been intoxicated.
But HSN president Bill Brand defended Simpson's behaviour saying the fashion designer was just excited to be there.
"Of course she wasn't drunk," said Brand, according to ET. "She was here. She was thrilled to be here. I can tell you our team loved working with her."
However, according to the In Touch source, Simpson does have an addiction problem and her family members, including husband Eric Johnson, parents Tina and Joe Simpson and sister Ashlee, believe it's time they sought professional help.
"They've known for a while that she has a problem," the source said, adding that fans slamming Simpson for appearing "wasted" during her HSN appearance "was a huge wakeup call."
"Whenever they've talked about [her drinking] in the past, Jessica would deny it — and since she supports everyone financially, no one pushed her," the source said.
Although Simpson's family believe a 28-day rehab programme would be the best for her, they are reportedly trying a new approach because Simpson doesn't want to be away from her two children.
"The family is already looking into in-home recovery programs and high-profile rehab centers," the source claimed. "They're leaning toward in-home, because they know Jessica will never agree to be separated from her children (daughter Maxwell, 3, and son Ace, 21 months.) Everyone is hoping that if they find the perfect option, Jessica will finally accept the help she needs."