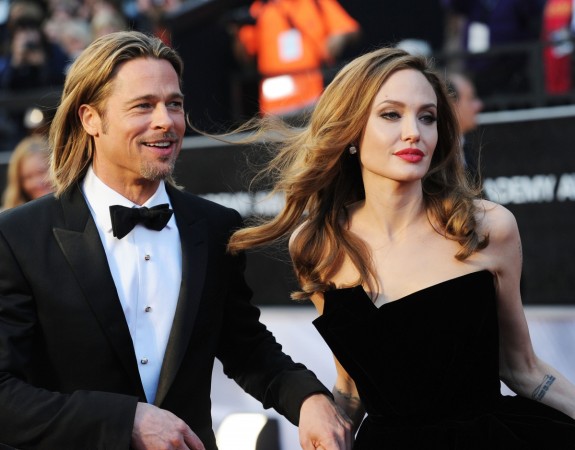 Angelina Jolie believes her ex-lover Brad Pitt has gone back to his old habits of falling for his co-stars. She reportedly feels very "emotional" looking at photos of Brad hugging his co-star, Margaret Qualley on the sets of Once Upon a Time in Hollywood.
Angelina, 43, feels a bit insecure as she fears her soon-to-be ex-husband might be having feelings for Margaret, 23.
A source close to Angelina told HollywoodLife, "Angie knows first-hand how incredibly intoxicating and romantic it can be working on a Hollywood movie with Brad."
In the picture, Margaret and Brad were hugging each other after shooting a scene. Looking back, Angelina and Brad started to get close in a very similar manner.
Brad and Angelina met on the sets of Mr & Mrs Smith and they started their romance even before Brad and Jennifer Aniston were officially divorced. So, Brad and Angelina kept their relationship a secret until Brad was divorced from Jennifer in 2005.
The source continued, "It is how she fell in love with him. So when she heard about Margaret hugging Brad on set, it immediately made Angelina very suspicious and upset. While she is doing her best to move on with her life, it is hard for her because her ex is one of the most popular people in the world."
Even though it was Angelina who filed for divorce in the first place, she finds herself getting emotional whenever she thinks about Brad. "She feels his suffocating shadow is impossible to escape or avoid and Angelina still gets emotional whenever she thinks or hears about Brad," said the insider. "Especially when he is embracing a pretty actress almost half of Angelina's age. It all really stings."
In recent reports, Brad was not only rumoured to be with Margret but was also linked to Sat Hari Khalsa, a jewellery designer, and spiritual healer.
Angelina feels surprised as to how "devastated" she feels when she hears about her ex-husband romancing another woman.