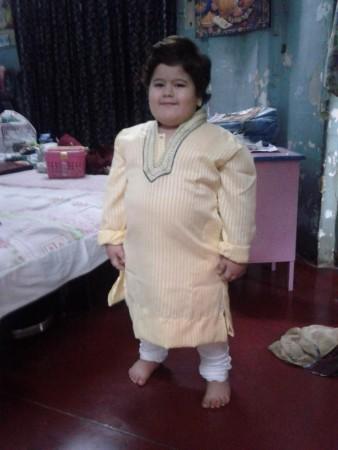 A four-year-old boy from Kolkata has made headlines for undergoing weight loss surgery at such a young age.
Rishi Khatau, who will celebrate his fifth birthday next month, weighed an alarming 44.5 kg and suffered from severe sleep apnea (breathing problems during sleep) at the time of his admission to the Asian Bariatric Hospital in Ahmedabad.
He was born weighing only 1.8 kg in 2008. His weight shot up by the time he turned two. The strange occurrence forced Rishi's parents to seek medical assistance. Doctors figured that he was gaining weight due to Prader-Willi Syndrome (PWS), a rare genetic disorder.
Prader-Willi syndrome is a condition that leads to poor muscle tone, motor skills, difficulties in learning, behavioural problems, short physique, decreased production of sex hormones, hunger, and obesity.
Rishi consumed 1,500 calories per day due to the condition and was soon at the grip of sleep apnea, a disorder that causes abnormal stoppage of breathing while sleeping. Though doctors tried to help the boy with different treatments, nothing worked and his health deteriorated. The child was not able to sleep for more than ten minutes at a stretch.
Doctors said they had no other option but to conduct a surgery to save the boy's life. "Sleep apnea in acute form can also prove fatal. Generally, we would avoid bariatric surgery in such a young child but his problem was acute & serious," said Dr Mahendra Narwaria, leading Bariatric Surgeon of Ahmedabad-based Asian Bariatrics Hospital, reported deshgujarat.com.
Considering Rishi's age, doctors had to take extra precautions while performing the surgery. "We had to use specific sleeve sizer and smaller stapler to perform the surgery to reduce the size of his stomach to one third. Since he is a growing child, we have not bypassed any portion of his intestine so that he does not suffer any malnutrition", Dr Narwaria added.
The surgery has already started showing good results as Rishi's calorie intake has reduced to 400 per day. Doctors assured that he will get get back to a normal weight within the next two years.
Rishi is not the first child to undergo a bariatric surgery at such a young age in India. In July, a team of surgeons at an Indore hospital performed a bariatric weight loss surgery on a six-year-old boy who weighed 60 kg.