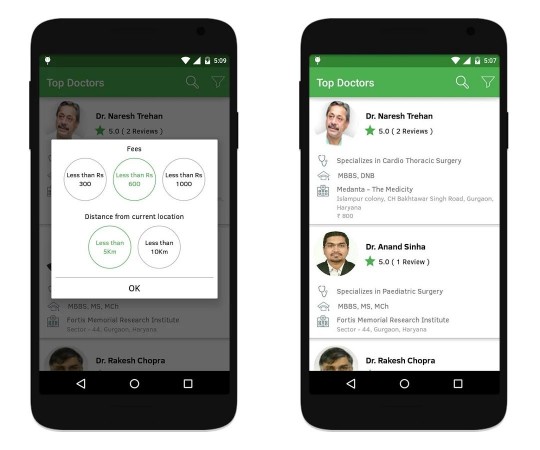 1mg.com has launched 'Doctors by 1mg' on the Android platform, to help Delhi NCR discover best doctors and book appointments.
The app allows users to search for doctors by their area of specialisation as general practitioners, gynaecologists, cardiologists and dentists. The app also covers practitioners of alternative therapies, homeopathy and ayurveda. Handy filters on the home screen lets you refine your selection by Doctor's Fees and Distance from the doctor. One key feature offered by the app is Ask for Recommendation, which will help users get doctor recommendations from their friends and family anonymously.
Doctors by 1mg is launched with a well-researched database of 15,000 doctors in Delhi NCR and is constantly being enhanced. The app also consists of a significant number of verified reviews & ratings (over 5,000), covers over 230 specialties and 10k clinics.
1mg founder Prashant Tandon said, "Our new launch is strongly aligned with our core goal of enabling our users to take informed decisions for effective healthcare. We want to connect fragmented healthcare ecosystems to give patients a one-stop m-health solution and for this we are continuously developing new products. We will expand this service rapidly and aim to cover doctors across 15+ cities before the end of the year."
Mobile Health is the need of the hour as India aims to make healthcare more accessible to its burgeoning population and with over three million downloads, 1mg is the leading innovator in this space. The company is expanding rapidly across multiple dimensions of m-healthcare as shown by recently added products viz a viz Medicine Reminders, Drug Interaction & the recent acquisition of Homeobuy.com for alternative medicines (AYUSH category).
The application is available as a web portal– www.1mg.com and as mobile app across android/ iOS/ Windows.
The app also features facilities such as:
Search for drugs: Get full information on a drug and over-the-counter medicines such as the dosage, common usage, warnings and more.
Cost comparison of generic and prescribed drugs: Find the generic drug equivalents for commonly prescribed brand-name drugs, compare prices and save money.
Drug Interaction: Learn more about how medicine works.
What are the ingredients and also precautions to be taken before and after its use.