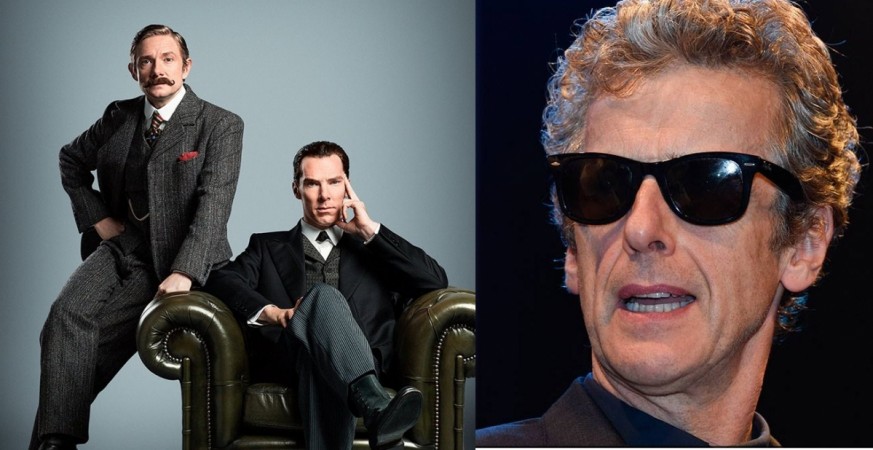 Fan-fiction sites light up if you search for a "Doctor Who", "Sherlock" cross-over, but so far neither of the BBC shows have teased up the possibility of something like that.
At the San Diego Comic Con 2015, "Doctor Who" show runner Steven Moffat, who is also one of the creative heads behind the Benededict Cumberbatch starrer "Sherlock", was asked if the time lord would ever meet the detective, and he said that he is completely open for a "Doctor Who"/"Sherlock" cross-over.
"For the record... I have no problem with the idea of them meeting," Moffat said at the Comic Con 2015 panel for "Doctor Who". Moderator Chris Hardwick pointed out that the two masterminds are different. While one (Dr Who) has compassion for everyone, the other (Sherlock) has compassion for no one, leading Moffat to speculate on how the two of them will meet and if the two master minds could even get along. "'They're very different. I'm not sure how well they'd get on.." he said.
Peter Capadli, the 12th Doctor, knew how exactly he would react to meeting Sherlock though; "More cleverly".
So, could TARDIS be expected to land in Baker Street for the Christmas special? Or will Sherlock's investigation lead to him the place Dr Who is stationed at for Christmas this year? Fans can only hope. Meanwhile, let us pray that Moffat will be able to convince "all the rest of them" – other writers and show-runners – who have a problem with doing a cross-over episode, that it is a great idea.