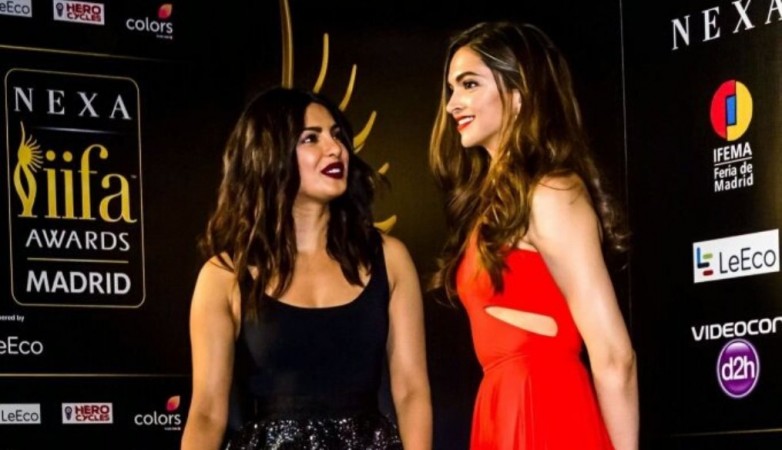 Reports of a rift between Priyanka Chopra and Deepika Padukone have been doing the rounds for quite some time now. However, Priyanka's acceptance speech at the IIFA 2016 suggests that everything is fine between the two leading Bollywood divas.
PeeCee won the Best Actress in Supporting Role award at IIFA 2016 for the movie "Bajirao Mastani." After thanking the makers of the film, Priyanka said that she and Deepika hate each other in the movie but not in real life.
"Thank you Bajirao, Mastani, Deepika, Ranveer — in the film we hate each other but otherwise we love each other," Pinkvilla quoted Priyanka as saying. It was earlier reported that the two actresses were supposed to perform together at the event but Deepika did not want to share the stage with Priyanka.
Reports had also suggested that the "Quantico" actress was ready to shake a leg with Deepika but as the latter did not agree, organisers of the show had to settle down with the two ladies performing separately. Priyanka and Deepika had performed on "Pinga" and "Malhaari" songs, respectively, from the movie "Bajirao Mastani."
Priyanka had said that she did not know why the plan of the two of them dancing together was changed. "Initially, I guess that was the plan (Priyanka and Deepika performing together). But then I think they changed it. Don't ask me why, I have no clue," DNA had quoted Priyanka as saying.
Deepika and Priyanka are currently two of the most sought-after actresses in Bollywood. Both are ready to make their Hollywood movie debut as well. Deepika will be seen in "XXX: The Return of Xander Cage" while Priyanka is a part of "Baywatch." Priyanka had earlier featured in the American TV series, "Quantico" and is now preparing for the second season of the show.