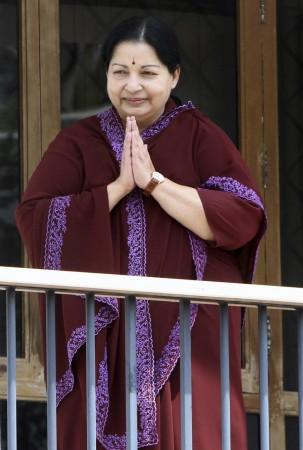 Dravida Munnetra Kazhagam (DMK) party members rolled their sleeves for a mass protest against Jayalalitha led-Anna Dravida Munnetra Kazhagam (AIADMK) on Wednesday, over accusations that the ruling party is engaged in a political "witch-hunt".
DMK top brasses, M Kanimozhi, Dayanidhi Maran, MK Stalin and other party cadres courted arrest as they launched "jail-bharo andolan" or "fill the jail" protest against the ongoing raids and arrests of DMK ministers in connection with various legal cases.
Following the on-street riots, Kanimozhi and Stalin were arrested and scurried away from the protest venue in a police van. The DMK members launched their demonstrations in around 22 places across Tamil Nadu; invariably causing inconvenience to the public.
Striking DMK members have alleged that Jayalalitha is pursuing a political vendetta against the opposition party since the day she assumed the state office. They also alleged that the AIADMK supremo had ordered the arrests of several former DMK ministers and that raids should be conducted at their residences without proof. It was also alleged that the AIADMK had falsely implicated the opposition party in various scams and cases.
Many of the DMK leaders are facing several corruption charges brought on by the misuse of their office powers for monetary benefits. Most of them are accused of land grabbing and possessing illegal assets.
Since her coming into power last year, Jayalalitha promised a crackdown on land sharks, and had accordingly instituted special police cells across the state to tackle the land grabbing complaints. Various media reports revealed how several people from across the state raised such complaints, with the majority of the complaints allegedly pointed to the former ministers of the DMK.
Acting on the complaints, the special anti-land grab force made many arrests while the CBI conducted raids at the homes belonging to several DMK ministers.
This also sparked the debate over Jayalalitha misusing her Chief Minister post and following a political vendetta against her arch-political rivals.
However, the AIADMK government has refuted the allegations of any sort of a counterblow and argued that the arrests have been made on authentic complaints.