Dravida Munnetra Kazhagam supremo M Karunanidhi has been hospitalised as he suffered from a slight decline in his health due to age-related ailments. The 94-year-old former chief minister of Tamil Nadu was treated at home by the medical staff of Kauvery Hospital in Chennai on Thursday, July 26.
"He is currently being treated for fever due to urinary tract infection with intravenous antibiotics and fluids. He is being monitored and treated round the clock by a team of medical and nursing professionals, who are providing hospital-level care at his home," Kauvery Hospital's Executive Director Aravindan Selvaraj said in a press release.
Selvaraj added that the doctors have been treating his medical condition and has strictly adviced the restriction of visitors.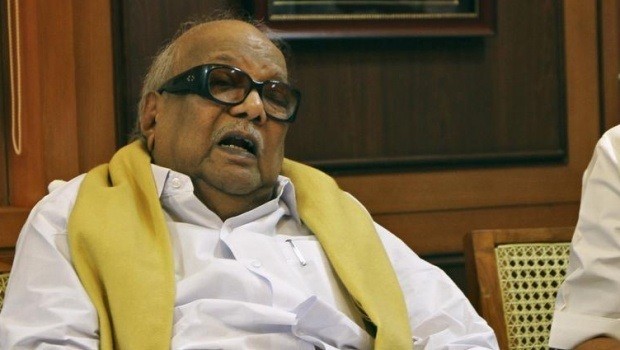 On Wednesday, DMK working president MK Stalin had stated that his father Karunanidhi had been suffering from a mild fever since the past two days.
As several media reports had claimed that Karunanidhi's health was deteriorating, Stalin told reporters: "Do not believe in them as they are rumours. He is taking rest after changing the tracheostomy tube last week. He had a fever after being discharged from hospital and doctors are treating him."
Karunanidhi was earlier admitted to Kauvery Hospital on July 18 for the change of tracheostomy tube -- a procedure where a hole is made in the windpipe to overcome breathing problems.
There has been a decline in the health of DMK President M Karunanidhi's due to age related ailments. He is being treated for fever due to urinary tract infection. He is being given hospital level treatment at home: Kauvery Hospital (file pic) pic.twitter.com/b3SaOR5qBt

— ANI (@ANI) July 26, 2018
Full text of medical bulletin: