IAS Officer Doddakoppalu Kariyanna Ravi, popularly known as DK Ravi, was a much loved personality due to his sincere and hard work.
DK Ravi, aged 35, had achieved what his peers could only dream of as he bravely took on sand mafia in Kolar and cleared encroachments of government lands. He was transferred to Bengaluru amid protests last October.
Read Complete Report on his Death
Since becoming Additional Commissioner on deputation with the Commercial Tax department in the city, he had taken on tax evaders and recently the city's top builders were in soup.
To everybody's shock, he was mysteriously found dead at his apartment on Monday, 16 March. "As things stand, it appears to be a suicide, and I cannot say anything more as the investigation is still on," Bengaluru Police Commissioner M N Reddi told reporters.
But people refuse to believe that he committed suicide and suspect it to be a murder. Netizens have expressed their anger on social networking sites and have recalled his works. Below, we bring to you selected comments posted on Twitter: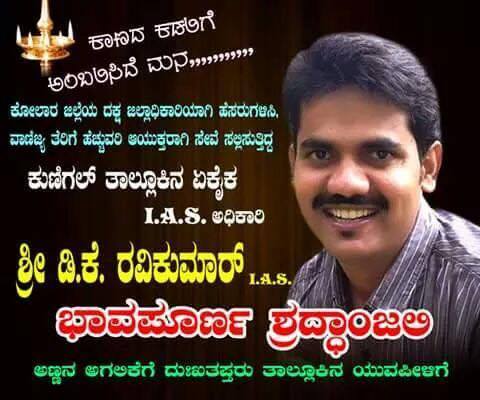 Mithun Katti Wrote
Respect Honest officer #DKRavi. All I hope is this one person's death inspires thousands to follow honesty.
Kunvar Aishwary Tweeted
One more Honest IAS officer found dead. #Bengaluru His fault was that he took on Land and Sand Mafia.. #RIP #DKRAVI
Lohit Tweeted
May ur untimely demise be an inspiration to thousands of youth across the country. May your soul rest-in-peace. #DC #DKRavi #
MANISH SHARMA Posted
#DKRavi RIP sir where you are will keep always in our heart ...you was true freedom fighter
kavitha Rao Wrote
Be an agent of change is what #DKRavi IAS told the people of Kolar. It mourns #IAS officer DK Ravi's death, district comes to a standstill.
BestMobilePay Posted
#dkravi DK Ravi was actual Law and Justice.. And now he's Dead.. Nothing more we can expect in India.
Nitesh Wrote
Raising voice against the mafia will be d most common cause of death in India vry soon #IAS #DKRavi RIP sir ! Another piece of honesty gone
Prabhu Sankar Posted
@MDPai05 @kiranshaw @sardesairajdeep @ActorMadhavan mafia can kill the body of #DKRavi not his indomitable spirit,his mission! #IamDKRavi
Amit Kumar Singh Wrote
In one kill, builders have dared all upright officers to meddle into their wrongdoing while government remains mute spectator. #DKRavi
Patre AJITH Posted
It gives such pain to lose an honest and Daring #IAS officer #DKRavi, may his soul RIP..
Anusha Ravi Wrote
Kolar stands united for #DKRavi. Protesters say he was #DrivenToDeath. Block NH. Demand CBI probe.
Bhagwat Posted
This death makes me feel that we are hopeless/ bunch of selfish individuals calling ourselves Indians #DKRavi @narendramodi @ShashiTharoor
Kashyap Nandan Wrote
Our CM will miss #DKRavi very much.He appreciated Ravi work in many occasion.He was the man behind Revenue Adalat.CM announced Revenue
Aarika Wrote
#DKravi honest officer not protected by the gvrnmnt. @narendramodi hw r u going to change d country whn such catalysts r nt protected by u?
Ramesh Bhat Tweeted
#DKRavi probe all Realtors who are looting Bangalore? Bt when govt is hand n glove no justice possible
Vivek Hegadi Posted
Our Society is such a mix, on one side we have #Sexiest #SharadYadav & on the other side we have brave heart #DKRavi
Achuthananda Tweeted
Sorry sir !! You were too good for this bad world. U dint deserve to be here .. #DKRavi