Film director Prem is trying to establish himself as a bankable hero with "DK", which is directed by Vijay Hampalli aka Udaya Prakash of the "Auto Raja" fame.
Like all his movies, "DK" has also drawn th audience's attention with controversies and for roping in former adult star Sunny Leone. The Kannada movie has Chaitra Chandranath in the female lead role and Rishikumara Swamy, who has become a popular face on television reality shows.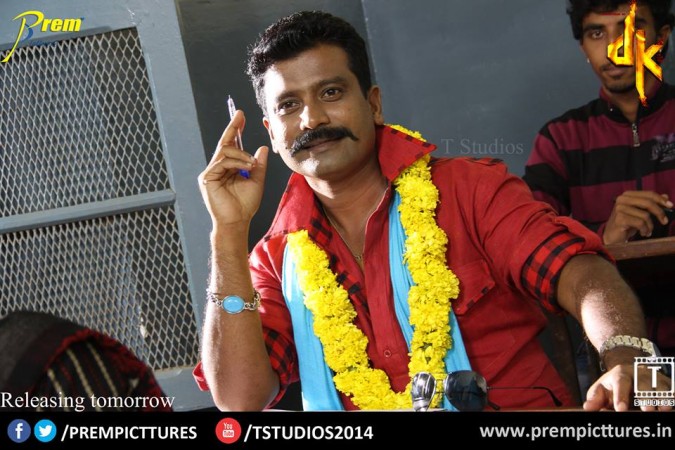 As per the makers of "DK", the film is a satirical comedy and does not have any connection with Minister DK Shivakumar or any other individual. It has Arjun Janya's music and SD Anand's cinematography.
Story:
The story of "DK" is about a budding politician, whose luck changes after his wife gives birth to a baby girl as he tastes success in politics. This paves way for the entry of DK.
DK and politician's daughter Subbalakshmi (Chaitra) fall in love after having a few fights between them. On the other end, the story traverses through a competition between the heroine's father and black magician, who wants to win an election. Below, we bring you the live tweet updates posted by audience:
Shashiprasad S M Posted
#dk matinee show at #Menaka
#dk #matinee #Menaka. How akward to sit next to young love couple. Gosshhh
#dk making me
Shyam Prasad Tweeted
#DK in #Menaka. #Rakshita galaaTe in theatre
#DK interval. Improbable characters in another taming of the shrew
*DK Sunny Leone no more enticing than leading lady Chaitra
#DK ends thankfully. Tank is kaali
Gandhinagara Tweets
#dk is a satire on politics which in turn has got the potential to become a prey for bigger satires.
Movie Lovers #RR Posted
#DK final Verdict: @premsdarshan After watching #DK i vomited in front of theater if u dont want do it stay out of theaters. Rating:0.25/5
Sandalwood Loka Writes
#DK is a colourful venture which is raw and playful
Kannada Movies Posts
DK is a pakka paisa vasool movie. Enjoy this Valentine's day with the feast of Prem's DK.