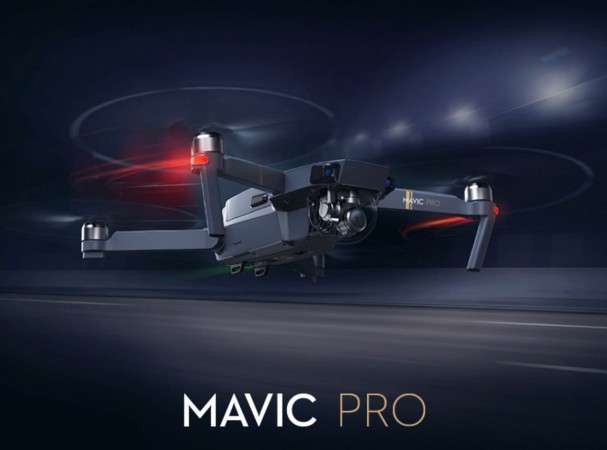 Leading drone-maker DJI has pulled the wraps off the new Mavic Pro, which is half the size of its flagship Phantom.
The new DJI Mavic Pro can easily sit on the hand when opened and fold in to a compact form, enough to be put into a small bag.
But don't get tricked by its mini stature, as the company has not compromised on its features at all. It comes with everything we find in the well-endowed big drones. Mavic Pro boasts a flight autonomy feature backed by advanced self-awareness software, which makes use of 5 cameras, GPS & GLONASS navigation protocols, redundant sensor and 24 computing cores. The company, in a bid to make it durable, has incorporated two ultrasonic range finders, so that if one fails, another kicks in to thwart the device from getting banged to an obstacle.
Mavic Pro can be operated by a controller, a VR headset looking POV Googles and smartphone through mobile app. Users can also use hand gestures to control Mavic Pro as well. If the user waves at drone with 'Y' shape gesture, it will hover around him/her and if he/she makes photo frame gesture like a rectangle, it will take aerial selfie. Interesting thing about this feature is that the user never has to wear any band or tracker; Mavi Pro is intelligent enough to follow the owners by itself. It uses 20 different satellites and two dedicated vision sensors, so that it can return and make precision landing exactly where it took off.
The new Mavic Pro is now available on the company's official website for $999. If the buyer wants to add controller to the cart, the price will increase to $1,299. Consumers can also avail DJI's Mavic Pro Refresh service, which offers prioritised repair and two full replacement option for an additional $99.
Key features of Mavic Pro:
Flight autonomy: Mavic Pro boasts intuitive self awareness feature to safeguard itself from coming in contact with obstacles. It comes with 5 cameras, GPS/GLONASS, two ultrasonic range finders, redundant sensors and 24 computing cores.
High resolution camera: Mavic Pro features a state of the art 12MP camera with 3-axis gimbal stabilisation, 4K video recording at 30fps, Max 8 exposure rate and Adobe RNG RAW image capturing.
Battery life: It houses a 3,830mAh battery and can last close to 27 minutes on air with top speed of 65kmph (40mph), that's pretty long for a mini drone.
Transmission range: Mavic Pro's OcuSync transmission system offers up to 4.3 miles (7km) range.
Compact structure: Mavic Pro is one of the very few foldable drones in the market. It can fold down as small as a bottle of water, making it compact enough to carry in a cargo short's pocket. it measures 198 x 88 x 88 mm in dimensions (closed) and weighs 1.64lbs or 743gm (including the gimbal cover).