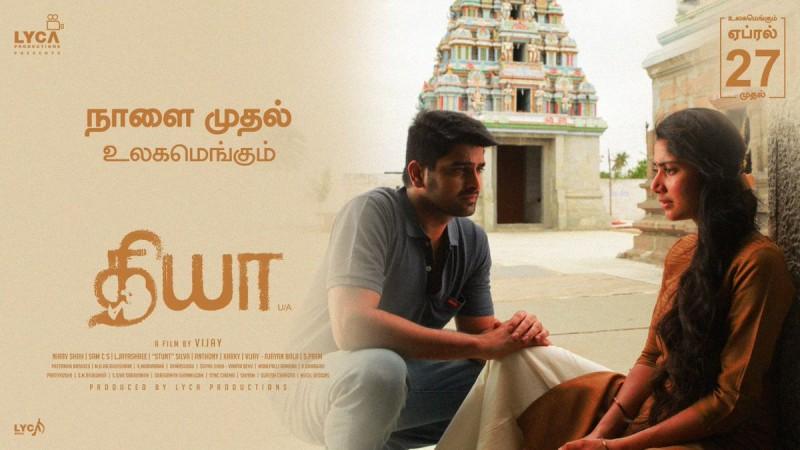 AL Vijay's Diya is the latest film to join the list of horror thrillers made in Kollywood in the last couple of years. The director is presenting a commercial entertainer with a message.
Diya, which is releasing simultaneously in Telugu as Kanam, stars Sai Pallavi of Malayalam blockbuster Premam fame. It also marks the debut of Naga Shourya in Tamil films. Child artiste Veronika Arora will be seen in an important role in the flick, which has RJ Balaji, Stunt Silva and others in the cast.
Sam CS has composed the music, Anthony has edited the flick, while Nirav Shah had handled the cinematography department.
Story Analysis:
Diya is a revenge drama laced with regular commercial elements. The template is similar to the usual horror thrillers. Thulasi (Sai Pallavi) and Krishna (Naga Shourya)'s baby gets aborted as they have different ambition and goals to achieve in their lives. But their lack of judgment results in deaths of their family members.
People, who are behind the abortion, are killed one after the other. Even the doctors behind it die, making Thulasi suspicious about the series of deaths. What follows thereafter should be seen on-screen.
Review:
The movie has been lauded by critics, who have already seen the movie in a special screening. Sai Pallavi has come up with a good performance. Nirav Shah's cinematography and Sam CS' background elevate the quality of Diya.
The audience are of the view that the it is a predictable revenge film with little twists in the narration. Overall, it has turned out to be an average movie, as per the audience.
Here, we bring you the live audience's updates about the flick:
Rohit Venkatraman: #Diya #Kanam Karma seeks revenge . This film could have been more interesting but it is another predictable vengeance drama with very twists & turns. I personality liked the plot & underlying message which was conveyed but let down by slowly presented screenplay. Mediocre attempt
Heytamilcinema: Different horror movie that is decently gripping. @SamCSmusic haunting music and #NiravShah camera along with #Vijay direction shoulders the movie till now. Predictability and below par unneeded comedy scenes are the negatives so far.
Aka_saurabh: Sai_Pallavi92 #Diya q little bit of confusing yet amazing movie.
Can't believe #Malar can be so brave and dynamic. Started following your films from #Premam . All the best for your future endeavors.
Prashanth Rangaswamy: #Diya - First hit of this summer!! A wholesome entertainer that will attract families big time !! Congrats @LycaProductions . Congrats @Sai_Pallavi92 for a fantastic tamil debut. Congrats Director Vijay sir - Perseverance definitely pays !!
Just done with #Diya First half (Special Premiere ) - If second half moves with the same intensity and perfection as the first , going to be a perfect summer treat for families.
Semma debut for @Sai_Pallavi92 in tamil, has scored big time with suttle yet strong expressions.
Kaushik LM: #Diya - There are no masala elements like song - dance, fights.. Dir Vijay focuses on his core content. It's an emotional family drama driven by mother - child sentiment, with a subtle horror thriller angle. Will work better with the family audience & ladies. 1 hr 40 mins runtime
#Diya 2nd half - The tension is built up well in a couple of scenes. The mother - child sentiment connects well. @Sai_Pallavi92 delivers the goods, it's a nice Tamil debut. Naga Shaurya looks good & does a fair job. Baby Veronika is cute. Just 100 mins, with a message in the end!
Rajasekar: #Diya first half - A slow burn emotional horror thriller in which @Sai_Pallavi92 shines with her towering performance. Liked the emotional connect established by director Vijay.
#Diya - An emotional horror thriller from director Vijay, liked the surprise ending and @Sai_Pallavi92 's riveting performance.
#Diya first half - A slow burn emotional horror thriller in which @Sai_Pallavi92 shines with her towering performance. Liked the emotional connect established by director Vijay.
Ramesh Bala: #Diya [3/5] : A haunting super natural thriller that touches a sensitive subject..
@Sai_Pallavi92 is excellent.. @IamNagashaurya makes a good debut in Tamil.. @RJ_Balaji provides comic relief..
Dir #Vijay keeps the pace going in this 99 minutes racy thriller..
Sridevi Sreedhar: #Diya interval: An emotional family thriller with horror elements ..Superb camerawork!technically brilliant. Slick and smartly packaged at 99 minutes @Sai_Pallavi92 #DirVijay #niravshah @LycaProductions
Average Ratings Given by Audience: 3