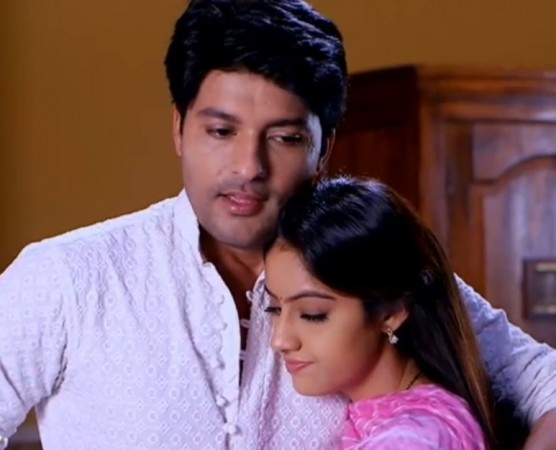 Sandhya (Deepika Singh) and Suraj (Anas Rashid) of Star Plus' hit show "Diya Aur Baati Hum", had a tough time convincing the Rathi family (Sandhya's in-laws) to hand over one of their unborn twins to Sandhya's brother Ankur's family.
But things later got sorted out and Sandhya after giving birth to twins, gave away one of her babies to Ankur as promised. Ankur and his wife Ankita were highly grateful to both Sandhya and Suraj for the huge sacrifice they made.
The Rathi family, although a little disappointed over Sandhya and Suraj's decision, organises a naming ceremony for the newborns, where Sandhya's son has been named Vedh and Ankur's newly adopted child Vansh.
While it looked like the two families may now find peace, the show with its never ending list of problems, has brought in another twist to the story.
In the latest development, Sandhya's in-laws and Ankur's family take Vedh and Vansh for vaccination to a nearby hospital.
However, in the process of vaccination, both the babies disappear from the hospital. Panicked, Ankur blames Bhabo (Sandhya's mother-in-law) for the incident.
However, it later turned out that the twins have been kidnapped after the nurses confirmed to have seen a couple taking the babies with them, whom they claimed to be their grandparents. This shatters Sandhya, Suraj, their parents, Ankur and Ankita.
Sandhya and Suraj reach the police station to file a report. Sandhya, an IPS officer by profession, asks the policemen to immediately start the investigation. The police then informs the couple, that they are already into the case and have started looking for CCTV footages of the hospital.
It now remains to be seen if Sandhya will be able to find her new-borns. In the meantime, reports have been doing the rounds that the high-voltage drama will soon take a seven-year leap and child artist Divyansh Tapuria has been roped in to essay the role of Sandhya's son.
So does this mean that Sandhya will reunite with her children only after seven years? Only time will tell.