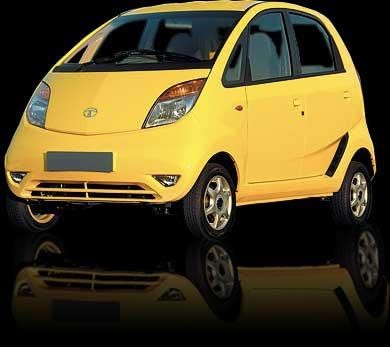 Tata Motors has introduced a special edition of India's cheapest car Nano with added features like alloy wheels, new decals and glove box.
The special edition of the world's cheapest car comes with many new features, but the company is offering the new edition for the same price. The car's LX and CX variants will come loaded with the features.
"Tata Nano owners have given us valuable insights which continue to find their way into the products and solutions we provide. The Special Edition Nano is inspired by our young consumers who wish to make their own style statement," said Neeraj Garg, Vice President (Commercial), Passenger Cars Business Unit, Tata Motors at the launch.
The new edition packs new Alloy Wheels and new decals along with two glove boxes, one on the passenger and the other on the driver side. It also hosts an audio system - with MP3, USB, Aux-in and front two door speakers. The company said that the older variants of the cars will continue its sales in the market along with the new edition.
In addition to this, the company claims to have improved the driving comfort with a revised suspension set-up, including an anti-roll bar at the front, and a steering mechanism. The special editions will be available in Pearl White, Rouge Red, Aqua Blue, Neon Rush, Serene White, Meteor Silver, Mojito Green, Papaya Orange, Sunshine Yellow, and Champagne Gold. The company will initially roll out the new variants in states like Arunachal Pradesh, Assam, West Bengal, Tripura, Sikkim, Nagaland, Mizoram, Meghalaya, Manipur, Maharashtra, Kerala and Gujarat.
"The Tata Nano Special Edition is available at the same price. With features worth Rs. 25,000, the Nano Special Edition is surely the most desirable set of wheels on the road. Alternatively, customers can choose not to buy the Special Edition Nano and buy the Tata Nano with other cash benefits, at an extremely low down-payment, starting from Rs.15,000, and high tenure financing (up to 60 months)," the company said in a press release.
The original version of the World's cheapest car Nano was launched in the year 2009 for a price of 1.56 lakh.
The company expected the car to become the trendsetter in the car market but failed to draw many crowd. With the addition of the new features, the company hopes to attract festival auto market.