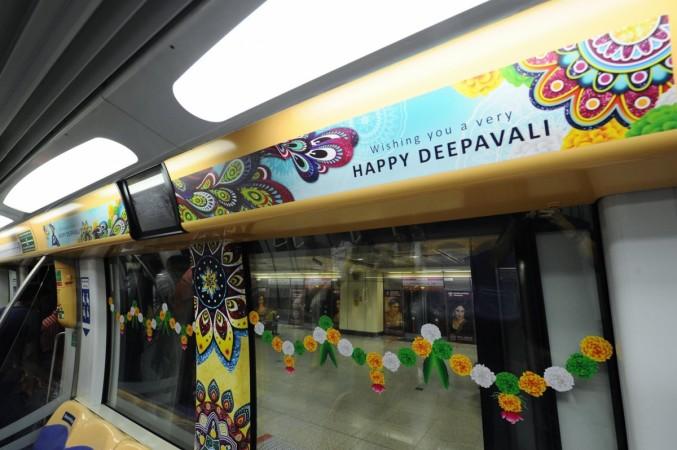 Diwali or Deepavali, a Hindu festival that signifies victory of good over evil or of light over darkness, is now celebrated in several parts of the world, including the White House in the United States. This year, Singapore is celebrating the festival in a unique way by introducing a Diwali-themed train decorated with symbols and pictures showcasing the auspicious occasion.
Land Transport Authority, a statutory board under the Ministry of Transport of Government of Singapore, announced its first Diwali-themed train last weekend. Minister for Transport Khaw Boon Wan launched the train that will run on the North East Line (NEL) till mid-November.
[READ: London Mayor Sadiq Khan joins Diwali celebrations at Trafalgar Square]
It's not only the special train that wears Diwali look with beautiful paintings of lamps, garlands, lotus and peacock, but also the MRT station in Little India which is pre-dominantly inhabited by Indians.

"Get ready to celebrate the Festival of Lights in a whole new illuminating way this year! We've launched our first #Deepavali themed train today and you can now experience part of the stunning decorations at Little India right inside the #MRT," wrote Land Transport Authority in a Facebook post.
"Decked out in this year's Deepavali theme, the train features elegant elements such as intricate Indian jewelleries, the lotus and peacock – a symbol of good luck," it added.
The celebration of Diwali or the festival of light includes lights shining on housetops, outside doors and windows, around temples and buildings. People also burst firecrackers, shop, exchange sweets and wish loved ones. Diwali 2016 falls on October 30.