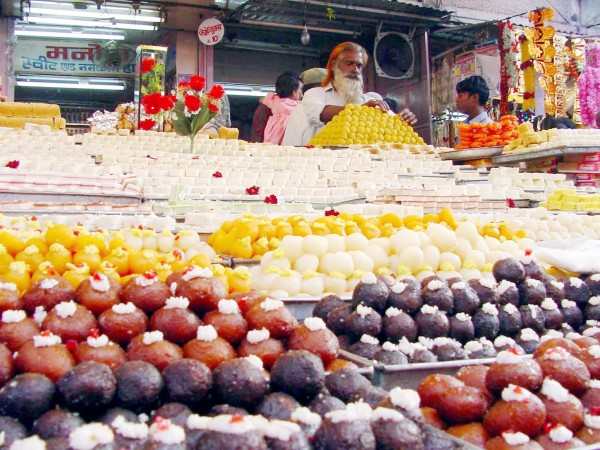 Diwali is known as the festival of lights, but a foodie will tell you that it's a really a festival of food. It's a common sight to watch people snacking on sweets while bursting crackers, and even more common to see maternal figures take pride in their home-made sweets.
Of course, most of these experiences are witnessed when one is celebrating Diwali at home. The festival of lights becomes a casual, everyday affair when one is celebrating it with friends. However, it needn't be.
If you're planning to throw a Diwali party this year and want to re-create the festive atmosphere at your home away from home, then your first step should include laying out a tray of delectable sweets. In most households, certain traditional sweets regularly make it to the Diwali dessert menu. Keeping this in mind, we have included a list of easy recipes for traditional sweets that often take hours to prepare.
Kaju Katli
Kaju katli or Cashew barfi is one of the most favourite Diwali recipes. To make this dessert, all you need is cashews, milk powder and sugar and these ingredients come together to form a rich, dense diamond patty. Tarla Dalal's recipe for this dessert is particularly easy and you could try it out:
Besan Ladoo
There are very few things that give you the same joy as a besan ladoo does. These balls of sweetness have a creamy texture and lend itself beautifully to the crunch presented by an addition of nuts. Making besan ladoo can be a time consuming and an elaborate process, but try home blogger Madhura's recipe, which, according to her, won't make you stress.
Baked Boondi Gulab Jamun
You won't find this dessert mentioned in your mother's illustrious recipe book and perhaps it's not a traditional Diwali dessert either. However, it includes all the traditional Diwali sweets as ingredients and results in a desi trifle, if you will.
Chef Amrita Raichad's recipe for baked boondi diwali recipe requires you to stir milk, khova, condensed milk to get custard like consistency. Use bread slices as your base, add a layer of boondhi and finally, add a handful gulab jamuns. Pour condensed milk once the layers are done and garnish it with chopped pistachios. Let it bake in the oven for 10-15 minutes.
Karanji or Gujiya
This Maharashtrian dessert has a crunchy, flaky exterior that undercuts the sweetness of the sooji, coconut and cardamom powder mixture that forms the filling. If you feel like making this traditional Diwali mithai, then invest some time in making the dough and filling. If you think it requires too much time, then Bharatzrecipe offers easy hacks to those who are attempting this sweet for the first time.