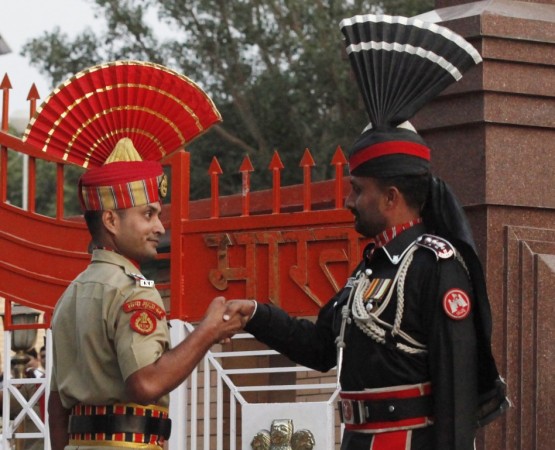 Breaking away from an age-old tradition, the Border Security Force (BSF) will not be exchanging sweets with the Pakistan Rangers at the Attari-Wagah Border this Diwali.
The exchange of sweets on Diwali is an old and traditional gesture between the two sides that was aimed to show goodwill. Senior commanders from both the sides exchange sweets in their official uniforms along the Wagah land border during Eid and independence days of both the countries as well.
Earlier this year, sweets were exchanged between the Indian and Pakistan security personnel to celebrate the festival of Eid at several points on the international border in Jammu and Kashmir and Rajasthan. Indian and Pakistani armies also exchanged sweets on several points along the Line of Control (LoC) in Poonch sector of Jammu and Kashmir.
The BSF said that it has taken the decision to oppose and protest the growing incidents of ceasefire violations around the international border and across the Line of Control (LoC).
Four security personnel's have been killed and 34 injured since India carried out surgical strikes targeting terror launch pads in PoK on September 29 as ceasefire violations have become a daily norm.
The Indian Army and the Pakistani Army have been involved in serious and heavy border skirmishes as recent as yesterday when the Indian Army destroyed four Pakistani posts in a massive assault across the Line of Control (LoC) in Keran Sector of Kupwara district in Jammu and Kashmir.
Pakistan was attacked in retaliatory fire assaults as the mutilated body of an Indian soldier was discovered on Friday. The Indian Army had said "the incident will be responded to appropriately", adding the attackers had fled into Pakistan-Occupied Kashmir "under the cover of heavy firing by Pakistan Army".
Sepoy Mandeep Singh, who died in the attack, was 27 years old. The attack took place under cover fire provided by the Pakistan Army. One terrorist was killed in the strike.