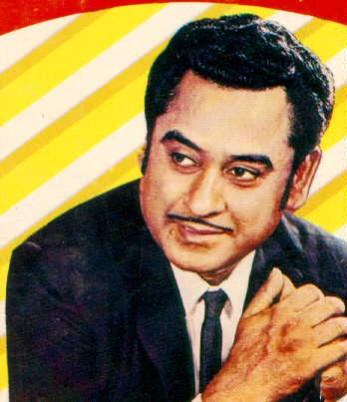 Late Music Legend Kishore Kumar took the music industry to a different level with his hit Bollywood songs. On 4 August, television celebs shared their favourite Kishore Kumar songs and talked about the great soul on his 86th birth anniversary.
He lent his voice for beautiful songs like "Hum Hain Rahi Pyar Ke", "Ek Ladki Bheegi Bhaagi Si", "Paanch Rupaiya Baara Aana", "Gaata Rahe Mera Dil", "Yeh Dil Na Hota Bechara".
Kumar made history in the Indian film industry as the most successful playback singer, who was also an actor, lyricist, composer, producer, director, screenplay writer and scriptwriter. He died on 13 October, 1987, due to cardiovascular disease.
Here's what Divyanka Tripathi, Rashmi Desaiand Other TV actors told Daily Bhaskar:
Divyanka Tripathi
Kishore sahab's singing was ahead of his time. Today Rapping is so in but he was the pioneer behind it in India. Kishore Kumar, being a fine actor too, used to put expressions and feel to his compositions. His songs were soulful, energetic and by listening to them you can visualize the scenario on your own. My favorite numbers are - Dekha na haye re, Ek ladki bheegi bhaagi si, and Tum aa gaye ho. I get inspired as an actor by watching his movies, songs and dances."
Daljeet Kaur
I like 'Manzilen apni jagah hai raaste apni jagah' I listen to it more often as the emotions are so pure and real in the voice. Amitabh Ji has acted and justified the song with his acting to an amazing level that you get into it even more".
Rashmi Desai
'Rimjhim gire saawan'. I like his other mischievous songs like 'Mein jhoom jhoomroo', 'Pag ghungaroo baje' and 'Ek chatur naar' as well. That's the most intimidating ability of Kishore Kumar. He could sing anything fabulously and on par."
Shashank Vyas
Kishore Kumar is a singer who can never get old for any generation. 'Chookar mere man ko' is personal favorite. He can make any generation happy with his love hits, happy or totally different genre he himself had created with extraordinary words and noises."
Below IANS quoted Vivian and other TV celebs who talked about the iconic singer:
Vivian Dsena
Kishore Kumar is a legend. Apart from his singing, I respect him for his personality too. He was a successful singer, actor, director, producer and a fantastic human being. "Yeh shaam mastani" is my favourite."
Ravi Dubey
'Aisi haseen chandni' from the film "Dard" is my favorite. Whenever I overwork or feel tired, I sleep listening to Kishore Kumar's love hits. His voice makes me feel calm. Listening to Kishore Kumar in rainy nights with comfortable blankets is my idea of happiness."
Aishwarya Sakhuja
For me "Ek ladki bheegi bhagi si" has to be my favourite because the way it was shot and also because it had Madhubala in it and again she is one of my favourite actresses. I even like this other song "Paanch rupaiya barah aana". His songs always bring string to my step when I listen to his songs because his songs are usually very happy and slice of lime songs so whenever I feel a bit low or miserable in life I think he is the perfect singer to listen because it makes your day a little more liveable."
Ashish Chowdhry
My dad used to sing Kishore Kumar's songs. I feel nostalgic whenever I hear his songs. Even during my college days when we used to hear hard rock songs, I would enjoy Kishore Kumar's old songs as well. His songs "Ghungroo ki tarah" and "Musafir hoon yaroon" are my favorites."